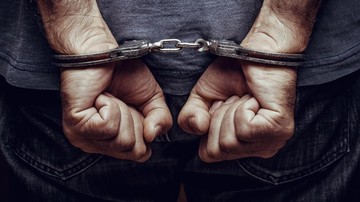 Jakarta, CNN Indonesia —
Babinsa Koramil Jatiluhur arrested a fake TNI who was disturbing residents. He was arrested in Jati Asih, Bekasi, on Sunday (2/4).
"We have now handed over the perpetrator to the Jati Asih Police for further legal proceedings," said Dandim 0507/Bekasi Colonel Kav Luluk Setyanto in a written statement.
According to Luluk, the perpetrators have disturbed the people of Jatiasih for more than a year.
"In his actions, he always uses PDH PM TNI Headquarters uniforms by asking people for money at celebrations, asking for money from mosques with the mode of social funds or takjil," said Luluk.
After a year of worrying residents, the fake TNI was finally secured by Serda Ayupti Babinsa Jatiluhur Koramil, Kodim 0507/Bekasi.
This arrest began when Serda Ayupti was on his way to the office by driving his two-wheeled vehicle to carry out an alert rally at Kodim 0507/Bekasi.
When crossing Jalan Raya Wibawa, he suspected a person wearing PDH uniform that did not fit the way he was wearing it.
Luluk said that Serda Ayupti tried to stop the fake soldier, but would not stop. Serda Ayupti then chased the perpetrator and kicked the fake soldier's motorbike until it fell.
"After that the perpetrator tried to escape, then Serda Ayupti again chased the perpetrator using a motorcycle and hit the fake soldier," said Luluk.
The perpetrator, said Luluk, had tried to fight back when he was about to be arrested. The community at the location also provided assistance so that the perpetrators could be arrested.
The officers then handed over evidence in the form of a uniform for PDH PM TNI Headquarters with the rank of Sergeant Major and a Vario 2017 motorbike with police number B 3476 ELD along with the key.
Apart from that, there is also a STNK in the name of UD, a KTP in the name of Adiyat Herriyadie, a blank KTA TNI blank, Rp. 850,000 in cash, and a hospital treatment card.
(pop/has)