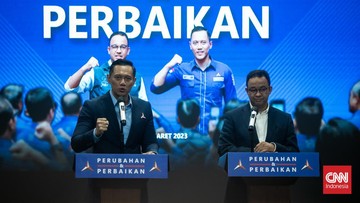 Jakarta, CNN Indonesia —
Democratic Party DPP Spokesperson Coordinator Herzaky Mahendra Putra claims that as many as 80 retired TNI/Polri generals have proposed Anies Baswedan and Agus Harimurti Yudhoyono (AHY) to run in the 2024 presidential election.
"More than 80 retired TNI/Polri generals visited Cikeas, West Java, to stay in touch with Democratic Party chairman Agus Harimurti Yudhoyono (AHY)," he said in a written statement, Sunday (2/4).
The generals, said Herzaky, admitted that they had visited Lebak Bulus, Anes Baswedan's residence, before visiting Cikeas. During the visit, representatives of each dimension expressed their aspirations for the recent heartache.
"We agree that now the pair Anies and AHY are the best. We want to move forward together with Anies and AHY to make this change happen," said Lieutenant General TNI Purn Prabowo.
Besides that, Marsdya TNI Purn Muhammad Syaugi Alaydrus thinks that the Anies-AHY pair is a suitable combination of civilian and military.
While Laksdya Purn Deddy and Brigadier General Purn Eldi Azwar consider that the Anies-AHY pair is a movement for change for the Unitary State of the Republic of Indonesia.
"For us, this is a call of duty, to join Anies-AHY in the movement for change for a better Indonesia," said Deddy.
In line with the retired officers who were present, AHY agreed that Indonesia was not in a good condition. He hopes to be side by side with Anies to run as a pair of presidential and vice presidential candidates in 2024
"I agree, currently Indonesia is not in a good condition. We also caught the anxiety of all the seniors who were present today, hopefully we can change it when the time comes in 2024," he added.
(can/DAL)
(Gambas:Video CNN)