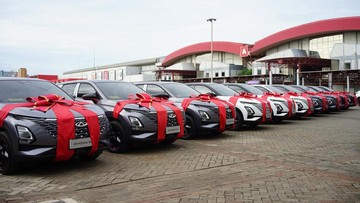 Jakarta, CNN Indonesia —
Chery Sales Indonesia (CSI) as the Chery Brand Holder Agent in Indonesia, handed over 100 units of Omoda 5 to the first 100 consumers in the Greater Jakarta area.
Harry Komara, Vice President of CSI, said that the 100 units handed over were based on orders placed by consumers since IIMS took place in February 2023.
"So these are consumers who have pivoted since IIMS yesterday, actually since their appearance at IIMS 2021 there have been enthusiasts but we have not yet started bookkeeping or receiving pivots," said Harry at the "OMODA Handover Ceremony 5" held at JIExpo Kemayoran, Jakarta, Saturday (1/ 4).
Meanwhile, Shawn Xu, President of CSI explained that the 100 units handed over were a form of CSI's commitment to the national automotive industry.
"Today we handed over 100 units of Omoda 5 out of a total of 300 units scheduled for April. We will hand over the remaining 200 units in April as well. Then the other units will be sent according to the queue," said Shawn.
As many as 100 consumers can take their Omoda 5 unit home directly, and it is certain that it can be used for the 2023 Eid homecoming.
Omoda 5 is claimed to be the first global product from Chery Automobile to fill the premium crossover segment.
Omoda 5 uses a 1,500 cc turbo petrol engine with 155 hp and 230 Nm of torque which is channeled via a CVT transmission to the front wheels. This car also has two driving modes, namely eco and sport.
The Omoda 5 is 4,400 mm long, 1,830 mm wide, 1,585 mm high and has a wheelbase of 2,630 mm.
Omoda 5 is also packed with the latest features and technologies, such as automatic driving, electronic power steering (EPS), electronic parking brake (EPB) and auto hold, lane keeping system, traffic signal recognition system (TSR), adaptive cruise control (ACC), as well as integrated cruise assist.
Omoda 5 has been equipped with the Advance Driving Assistance System (ADAS) and six airbags as safety features.
(Gambas:Video CNN)
(mik)
(Gambas:Video CNN)