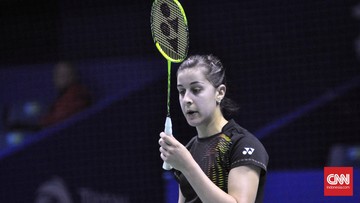 Jakarta, CNN Indonesia —
The women's singles badminton athlete from Spain Carolina Marin cannot hide her dissatisfaction after losing to Gregoria Mariska Tunjung in the semifinal match of the Spain Masters 2023, Sunday (2/4) early morning.
Marin has high expectations of success in his own country. In the midst of that ambition, Marin lost to Gregoria in three games.
After winning 21-10 in the first game, Marin lost 15-21 and 10-21 in the next two games. Failure to live up to expectations discouraged him.
"Today is a tough day for me. I experienced something since before the competition so I don't know if I'm ready to play," said Marin.
"You know when I was in Spain I wanted to give my best, so that people can come here to see me. I just wanted to give the best I could. I didn't get to the final, I was disappointed," he added.
Marin also said goodbye to the fans who had supported him over the past week from the Centro Deportivo Municipal Gallur tribune, Madrid.
"I thank those who have come to support me this week to support me. I enjoyed a lot here, in Madrid, in Spain, with my family, with the supporters, I feel grateful for what the people give," he said in interview with Badminton Europe.
Marin, who is still devastated by the loss to Gregoria in the semifinals of the Spain Masters 2023, will spend time with his family before preparing to appear in the next tournaments.
Marin's failure to reach the final also dashed his efforts to become the first player from Spain to win the Spain Masters.
Since the Spain Masters took place in 2018, not a single Spanish player has been able to top the podium. Marin made the best achievement in 2020 when he became runner up after losing to Pornpawee Chochuwong.
(Gambas:Video CNN)
(nva)