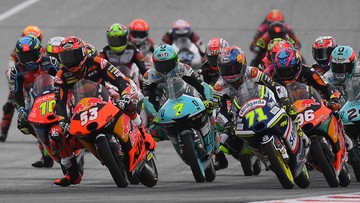 Jakarta, CNN Indonesia —
Tatsuki Suzuki won Moto3 Argentina 2023, Sunday (2/4), in a race on a wet track which was marred by many accidents, including Indonesian racer Mario Aji.
Deniz Oncu took the lead quite comfortably. However, the Turkish racer crashed at turn 11 as the race entered its third lap and was leading by more than 0.5 seconds.
Oncu's accident made Tatsuki Suzuki then take the lead and not be overtaken in front. Entering lap 10, the Japanese racer was already 3.3 seconds ahead of Ayumu Sasaki.
Disaster always happens to riders in second place at the Moto3 Argentina 2023 race. Sasaki lost second place after having an accident at corner 13 on lap 11.
On the 14th lap, Jaume Masia, who was in second place, also fell. Not long after Masia crashed, Mario Aji also fell on the same lap.
The Indonesian racer actually had a good chance to create his first point this season after being in 17th place despite starting from 23rd. However, Aji failed to maintain his position and fell.
(Gambas:Video CNN)
After Masia fell, Xavi Artigas was in second place. But again Artigas was also unable to maintain his position after falling on lap 15.
On the last lap a number of racers fell again, including Riccardo Rossi who crashed at a fairly high speed.
Suzuki finally won in Moto3 Argentina 2023 by beating Diogo Moreira and Andrea Migno.
The 2023 Argentina Moto2 and MotoGP races can be watched on Trans7 live.
Moto3 Argentina 2023 results:
1. T. SUZUKI 35 minutes 18.099 seconds
2. D. MOREIRA +4.571
3. A. MIGNO +4.699
4. S. OGDEN +5.512
5. D. LOOSE +8.814
6. S. NEPA +11,865
7. K. TOBA +12.159
8. X. ARTIGAS +12.467
9. R. YAMANAKA +12.844
10. D. SALVADOR +12,884
(har)