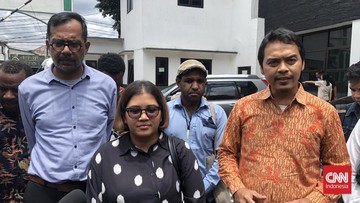 Jakarta, CNN Indonesia —
The Civil Society Coalition rejects the government's silencing, one of which is through the criminalization of Human Rights (HAM) activists Haris Azhar and Fatia Maulidiyanti regarding defamation reported by the Coordinating Minister for Maritime Affairs and Investment, Luhut Binsar Pandjaitan.
"In the public sphere, people who express their opinions are actually being repressed by the security forces. On the other hand, freedom in our digital sphere is also increasingly being taken away by the existence of legal products such as the ITE Law," said the official statement from the civil society coalition, Sunday (2/4) .
On Monday (3/4) the alleged criminal defamation case against Luhut will go through the initial trial phase with the agenda of reading out the charges.
"This is bad news for democracy and the situation for civil liberties in Indonesia. This case is also only one of many attacks aimed at activists, journalists, human rights defenders, women human rights defenders, students and elements of civil society in general," he said.
His party also stated that all the threats that arose because of the state's arbitrariness did not stop the people's steps to continue to demand the fulfillment of justice and human rights in Indonesia.
"We call for the greatest solidarity to all citizens who to this day are victims of criminalization and also threats due to their activities in defending the environment, academic freedom, press freedom and injustice," he said.
Previously, Luhut filed criminal and civil defamation complaints against Haris Azhar and Fatia to the police. The complaint led to a statement made by Fatia in a video uploaded via Haris' YouTube channel on August 20 last year.
The report wrote that the two of them accused Luhut of having a conflict of economic interests in the polemic on the mining business in Papua.
The civil society coalition that refused consisted of human rights, law, anti-corruption, environmental, academic and labor organizations.
Fatia is the Coordinator of KontraS and Haris is the founder of Lokataru. Now the status of the two is close to the trial court process.
(can/DAL)
(Gambas:Video CNN)