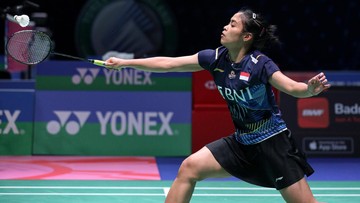 Jakarta, CNN Indonesia —
Gregoria Mariska's success in defeating Carolina Marin in the semifinals of the Spain Masters 2023 has resulted in a series of interesting facts.
Gregoria Mariska progressed to the final after winning three games over Marin who received the support of spectators at the Centro Deportivo Municipal Gallur, Madrid, Sunday (2/4) early morning Indonesian time.
Losing 10-21 in the first game, Gregoria then responded by showing a different game in the second game which ended with a score of 21-15.
Entering the third game, a tight duel had occurred in the first half of the match. Gregoria also trailed 9-10 before turning things around to 11-10 at the interval and ending the match with a 21-10 victory.
According to trainer Herli Djaenudin's explanation, there were several keys to Gregoria's victory over Marin. In addition to changing playing patterns, Gregoria is also considered to have a different mentality.
Here are seven facts about Gregoria advancing to the 2023 Spain Masters final after defeating Marin:
1. The victory over Gregoria in the semifinals of the Spain Masters 2023 made the meeting record with Marin a draw.
In the only meeting between the two which took place in the top 32 of the 2018 Malaysia Open, Gregoria lost to Marin in a match that lasted three games.
2. By defeating Marin, more and more top women's singles players have lost to Gregoria.
Since 2022, Gregoria has beaten several top players in the women's singles sector, such as Chen Yufei, He Bingjao, and Akane Yamaguchi.
3. Gregoria's progress towards the 2023 Spain Masters final was marked by defeating players from various countries. After defeating Kirsty Gilmour from Scotland in the round of 32, Gregoria defeated Kim Ga Eun from South Korea in the round of 16.
Entering the quarter-finals, it was the turn of Denmark's Line Christophersen who was defeated by Gregoria. Marin, who became the host, became the fourth player that Gregoria defeated at this year's Spain Masters.
Continue reading this article on the next page>>>
Second BWF Tour Finals to Improved Gregoria's Performance
READ THE NEXT PAGE