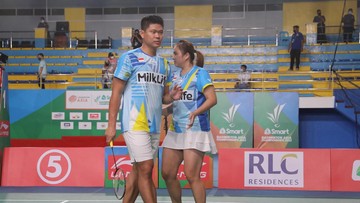 Jakarta, CNN Indonesia —
Five interesting facts accompany Indonesia's mixed doubles, Praveen Jordan/Melati Daeva Oktavianti, to the 2023 Spain Masters final.
Praveen/Melati beat the Danish double challenge Mathias Thyrri/Amalie Magelund in the semifinals of the 2023 Spain Masters.
The owner of the 2020 All England title won 21-15 in the first game, but lost 22-24 in the second game, so the match had to be decided in the third game.
Praveen/Melati once again won the decisive game. The score of 21-12 ensures Praveen/Melati to the final.
Here are five interesting facts about Praveen/Melati going to the 2023 Spain Masters final:
1. Before beating Thyrri/Magelund in the semifinals of this year's Spain Masters, Praveen/Melati had won over the Danish pair in the 2021 Sudirman Cup.
Two years ago, Praveen/Melati won 21-8, 21-17 over the world number 36 pair. Now Praveen/Melati have a 2-0 lead over Thyrri/Magelund.
2. The 2023 Spain Masters Final will be Praveen/Melati's first peak match after the 2021 Hylo Open, as well as the first final after Praveen suffered an injury and had to be absent for a long time.
3. In the final, Praveen/Melati will meet Mathias Christiansen/Alexandra Boje. The two pairs have met four times and Praveen/Melati won 3-1.
Praveen/Melati lost to Christiansen/Boje in the last meeting which took place at the 2021 Indonesia Open.
4. On the BWF World Tour, Praveen/Melati have met the Danish doubles only once in the final, namely at the 2018 India Open. At that time, Praveen/Melati lost to Mathias Christiansen, who is still partnered with Christinna Pedersen.
5. Since the Spain Masters was held for the first time in 2018, only two Indonesian representatives have made it to the final. Before Praveen/Melati this year, Rinov Rivaldy/Pitha Haningtyas Mentari had tasted the final and won the 2021 Spain Masters.
(Gambas:Video CNN)
(nva/nva)