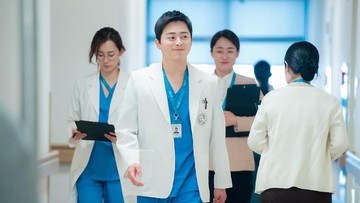 Jakarta, CNN Indonesia —
A series of Korean dramas can be a choice of viewing to accompany the fasting week ahead. Starting from the story of friendship, school, to family.
Some of them are Hospital Playlist, When Camelia Blooms with stories that are close to everyday life. Then there is also Start-Up, the story of a teenager who starts a business. Apart from that, there are also drakors that are a bit heavy like The Glory and Little Women.
Here are 5 recommendations to accompany fasting this week.
1. Hospital Playlist
Tells about the friendship of five doctors Lee Ik-joon (Jo Jung-suk), Chae Song-hwa (Joen Mi-do), Kim Joon-wan (Jung Kyung-ho), Ahn Jeong-won (Yoo Yeon-seok), Yang Seok (Kim Dae-myung).
They have been friends since they were medical students. After graduation, their friendship did not end. The five of them work at the same hospital, but with different areas of expertise.
They also continue their hobby of playing music. They even have a band called Mido and Falasol.
Hospital Playlist was created by Lee Woo-jung and its first episode was released since March 2020. This Drakor can be watched on Netflix.
(Gambas:Video CNN)
2. When Camellia Blooms
When Camellia Blooms tells the story of a single mother named Dong Baek (Kyong Hyo-Jin) who lives in the small town of Ongsan. He has a son Pil-Gu (Kim Kang-Hoon) who he raised by himself.
Dong Baek owns a restaurant bar called Camellia. However, she is often gossiped about by people in Ongsan and gets bad stereotypes just because of her status as a single mother.
3. Little Women
Little Women tells of three sisters who live in poverty. The three siblings are Oh In-ju (Kim Go-Eun) as the first child, Oh In-kyung (Nam Ji-hyun) the second child, and Oh In-hye (Park Ji-hoo) the youngest child.
They have to provide for their own life because they were abandoned by their selfish parents. Oh In-ju and Oh In-kyung also have to work and go into debt to pay for their younger sibling's schooling.
Continue to the next…
Drakor Recommendations Accompany Fasting This Week, The Glory
READ THE NEXT PAGE