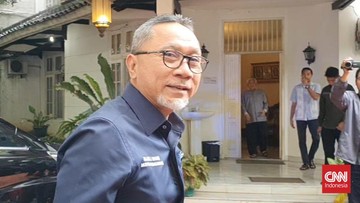 Jakarta, CNN Indonesia —
Chairman of the National Mandate Party (PAN) as well as Minister of Trade (Mendag) Zulkifli Hasan emphasized that the reshuffle of the Indonesia Onward Cabinet could be confirmed by President Joko Widodo (Jokowi) tomorrow, Sunday (2/4).
"Yes, ask Mr. Jokowi. Tomorrow just come to my office. Get together, there is Mr. President, there is a coalition of Gerindra-PKB (KIR) and the United Indonesia Coalition (KIB)," he said at Kids Republic School, East Jakarta, Saturday (1/ 4).
Zulkifli Hasan alias Zulhas is reluctant to give any leaks about when the right time to reshuffle the cabinet. He wasn't even willing to give an estimate of the reshuffle time, whether before or after Eid 2023.
"All come tomorrow, so ask tomorrow. Just ask tomorrow," concluded Zulhas.
The issue of a cabinet reshuffle has been blowing in recent months. Initially, the reshuffle was echoed by PDIP after the NasDem Party declared Anies Baswedan as a presidential candidate.
PDIP asked Jokowi to remove the minister of agriculture as well as the minister of environment and forestry from NasDem. They reasoned that the two ministers did not show partiality to the people.
After that, the reshuffle issue died down. However, it started blowing again after Zainudin Amali resigned from the position of Menpora, leaving a vacancy.
Amali has officially left the cabinet. The temporary Menpora position is held by Coordinating PMK Minister Muhadjir Effendy. At the same time, the Golkar Party has sent three names to replace Amali.
The three names are Ilham Permana, Chairperson of the Central Leadership of the Golkar Party Youth Force (PP AMPG), Dito Aritedjo, General Chairperson of the DPP Indonesian Renewal Youth Force (AMPI), and Member of Commission XI DPR RI from the Golkar Party, Puteri Komarudin.
Meanwhile, President Joko Widodo stated that he would reshuffle the cabinet, aka a reshuffle, following the vacancy of the Menpora chair.
"Soon. Immediately," Jokowi said in Maros, Wednesday (29/3).
(skt/ain)