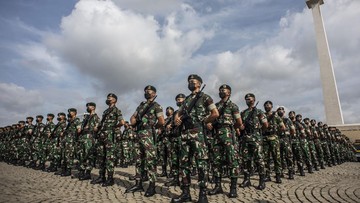 Jakarta, CNN Indonesia —
The TNI and Polri carried out large-scale transfers of high- and middle-ranking officers. The TNI rotates 219 members, while the Police 437 for a total of 656 members.
Transfers of TNI members are carried out based on Decree of the Commander of the Indonesian National Armed Forces No. Kep/338/III/2023 concerning Dismissal from and Appointments in Position within the Indonesian National Armed Forces dated March 29, 2023.
Meanwhile, the transfer of police officers is stated in the Polri telegram numbers ST/712/III/KEP./2023, ST/713/III/KEP./2023, ST/714/III/KEP./2023, and ST/715/III/KEP ./2023.
TNI rotation
TNI Commander Admiral Yudo Margono rotated his members from the Army (AD), Navy (AL) and Air Force (AU).
One of those replaced was the Kopassus Danjen Major General Iwan Setiawan who was appointed as the XII/Tanjungpura Regional Military Commander. Iwan's position was filled by Brigadier General Deddy Suryadi, who previously served as Kasdam IV/Diponegoro.
Then, the Head of the Indonesian National Armed Forces Headquarters, Rear Admiral Kisdiyanto, was placed as a Political Bid Review Expert at Lemhannas.
Kisdiyanto's position is now filled by First Admiral Julius Widjojono who was previously the Kadispenal.
Then, the Director of Air Power Seskou Colonel Pnb M Taufiq got the position of Danlanud Atang Sendjaja, while the First Marshal Suliono was appointed as the Director of the Kodiklatau.
Furthermore, Yudo replaced the Director General of Pothan Kemhan Major General Dadang Hendra Yudha who was entering retirement period replaced by Major General Mohammad Fadjar.
Previously, Fadjar served as Chair of the Institute for Quality Assurance and Learning Development at the Defense University.
Police rotation
National Police Chief General Listyo Sigit Prabowo rotated seven high-ranking officers who were promoted to become the new regional police chief.
The seven officers, namely Inspector General Karyoto as the Metro Jaya Regional Police Chief, Inspector General Agus Nugroho as the Central Sulawesi Regional Police Chief, and Inspector General Akhmad Wiyagus as the West Java Regional Police Chief.
Then, Inspector General Helmy Santika as the Lampung Police Chief, Inspector General Angesta Romano Yoyol as the Gorontalo Police Chief, Brigadier General Pipit Rismanto as the West Kalimantan Regional Police Chief, and Inspector General Setyo Boedi Moempoeni Harso as the South Sulawesi Regional Police Chief.
Apart from that, Listyo also appointed three Polri officers to occupy positions at Polri Headquarters, namely Inspector General Fadil Imran as Head of Kabaharkam, Purwadi Ariyanto as Kalemdiklat, and KBP Nananh Chadarusman as Kasetum.
(psr/bmw)
(Gambas:Video CNN)