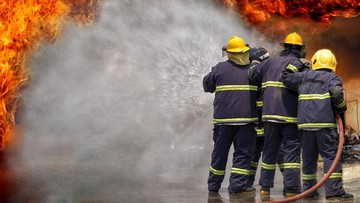 Jakarta, CNN Indonesia —
PT Pertamina confirmed that the fire following the explosion at their oil refinery in Dumai, Riau, had been successfully extinguished on Sunday (2/4) early morning.
"The fire has been extinguished. We ask residents to calm down. Pertamina is responsible for the impact of the explosion. We ask for your cooperation," said Pertamina RU II Public Relations Manager Dumai Agustiawan, as reported by Antara.
Agustiawan also ensured that Pertamina's management together with the local government and officials had intervened to calm the residents.
"We immediately went down tonight to collect data," he said.
The Mayor of Dumai Paisal has indeed come to the Pertamina RU II Dumai location. He stood in the middle of the crowd to listen to their complaints.
"Please everyone be patient because currently it is being handled. Don't provoke anyone," said Paisal.
The explosion that triggered the strong vibration occurred on Saturday at around 22.40 WIB. Neighbors said they felt a strong vibration when the sound of an explosion was heard.
One of the residents at the location, Rahmat, said he felt two strong vibrations during the explosion. Residents ran out of the house.
"Residents' houses were damaged, which is a radius near the refinery. There is also a mosque around a 3-kilometer radius," Rahmat told Detikcom.
A number of videos circulating also show residents' houses shaking due to the explosion at the refinery. The ceiling of the mosque was also seen collapsing because of the strong explosion.
"The factory exploded," said the video recorder.
(has)