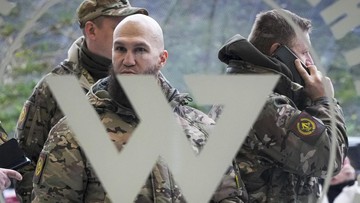 Jakarta, CNN Indonesia —
A number of international civil society organizations and communities are working to sue the Russian mercenary organization Wagner Group to be deemed a terrorist group.
Several Ukrainian exiles assisted by a British law firm are looking to seize Wagner Group assets to stop Russia's ability to invade Ukraine. This is because Russia has so far relied on Wagner's army in launching its invasion of the former Soviet Union.
"We will prove that Wagner is a terrorist organization," said the Senior Partners of British law firm McCue Jury and partners, Jason McCue, as quoted by Al Jazeera, Saturday (1/4).
"That Wagner committed acts of terrorism not only against certain individuals or buildings in Ukraine, but against the population as a whole," he said.
McCue said Wagner was involved in an unlawful conspiracy with the Russian Federation.
"The Russian Federation is using Wagner terrorists (against) the Ukrainian people so that they will reduce resistance and move their country to allow for a simpler invasion. It was done on purpose," he stressed.
(Gambas:Video CNN)
Now McCue has forged a global law firm alliance backed by evidence from investigative journalists, retired spies, and data feeds from Ukrainian prosecutors' offices and Ukrainian military intelligence.
The charges against Wagner began last January, when a Wagner mercenary fled to Norway. He is currently a fugitive by the Russian police.
After being caught, the person was killed by being hit in the head.
Another former Wagner troop leader, Andrei Medvedev, told rights group Gulagu.net that his life was in danger.
Medvedev said killing his men was common practice for Wagner's troops.
He also intends to testify in court to bring Wagner's boss, Yevgeny Prigozhin, to court.
Lawsuits against Wagner are being readied around the world, with a class action suit that will later be brought to court in England.
(nfl/rds)
(Gambas:Video CNN)