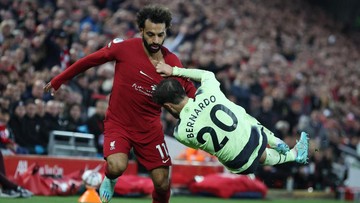 Jakarta, CNN Indonesia —
Manchester City will face Liverpool in the Premier League. The following is the big match prediction for Man City vs Liverpool this week.
Man City is currently chasing Arsenal, which is increasingly racing at the top of the Premier League standings. The Gunners are currently eight points ahead of City who are stalking in second place.
Therefore, winning three points at the Etihad will be very meaningful for Man City to maintain their hopes of winning this season.
At first glance, the target of victory over Liverpool will be easily achieved by City. This is because the Reds have appeared erratic this season and have had difficulty finding their best performance.
However, Jurgen Klopp's squad can make a surprise because it has a number of the world's top players who can be a serious threat. The 7-0 victory over Manchester United is proof of that.
Apart from that, Klopp also has a good record when clashing tactics with Guardiola. The German coach is the figure who has beaten Guardiola the most in various matches with a record of 11 wins.
The following is the prediction for Manchester City vs Liverpool which is summarized from the editorial office of CNNIndonesia.com:
Waiting for Haaland's Condition (Haryanto Tri Wibowo)
Pep Guardiola is anxiously awaiting Erling Haaland's condition to face Liverpool. Man City needs the Norwegian bomber to beat Liverpool and catch Arsenal at the top of the Premier League standings.
Haaland scored nine goals in his last three games for Man City. Meanwhile, Liverpool are on a two-game losing streak. Even though Liverpool won 2-1 over Man City this season, The Citizens still deserved to be the favourites, especially with Haaland up front.
This match is sure to be interesting. I predict Man City can win 3-1 over Liverpool with Haaland scoring a goal if he plays.
Continue reading on the next page>>>
Haaland Doubted To Appear
READ THE NEXT PAGE