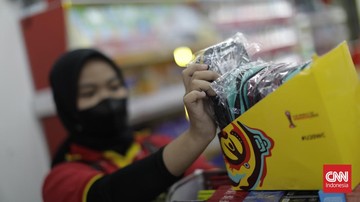 Jakarta, CNN Indonesia —
Micro, small and medium enterprises (MSMEs) asked for a solution from the Indonesian Football Association (PSSI) because they had already produced merchandise for the U-20 World Cup, although in the end the international event was canceled in RI.
Chairperson of the Indonesian IUMKM Association (AKUMANDIRI) Hermawati Setyorinny expressed her disappointment. He said that MSMEs were ready to welcome the international event by producing various merchandise.
"Losses are not only material, but also immaterial. Hopefully there can be the best solution for MSME products that have already been produced. I hope there will be a solution from PSSI, relevant ministries, central government and local governments, including FIFA in this obstacle," he said to CNNIndonesia.com, Saturday (1/4).
"Not yet calculating the numbers, but what is certain is that there will be losses. Because some are already in production and preparing to supply materials for production."
Hermawati emphasized that the biggest impact was felt by appointed entrepreneurs and MSMEs as the company's partners. In addition, RI's MSMEs have lost market opportunities in event areas that were to be held in RI.
He said he was very disappointed with the cancellation, even though he inevitably had to accept it.
"Like it or not, MSME friends have to accept it, even though they are actually very disappointed. Why did the rejections appear here and there after Indonesia was designated as the host country? After the preparation of infrastructure, facilities and facilities according to Mr. Erick Thohir were appropriate and ready?" he said.
Failed to get snowball effect
In the same vein, Secretary General of the Indonesian MSME Association (Akumindo) Edy Misero expressed his disappointment. He said there were many multiplier effects that could be felt by MSME players if the U-20 World Cup was held in Indonesia.
Edy detailed that many sectors have been targeted by MSME actors as profit fields, from merchandise to culinary. However, all the profit opportunities were just gone.
"Reporters are disappointed that those assigned to cover don't even get coverage, especially as we as UMKM players. Those who used to be able to sell knick-knacks, now we can't. Definitely disappointed, definitely disappointed," said Edy.
Edy said Indonesia must learn from this failure. Don't let similar mistakes be repeated, when international events that have been heralded are just cancelled.
FIFA officially canceled Indonesia as the host for the 2023 U-20 World Cup. This was conveyed by FIFA through its official website, Wednesday (29/3) evening.
The 2023 U-20 World Cup is scheduled to be held in Indonesia from May 20 to June 11. However, ahead of the event, there was a polemic about the participation of the U-20 Israeli national team.
Several parties reject Israel playing in Indonesia, because it does not have diplomatic relations with Indonesia, including PIDP, Governor of Bali I Wayan Koster and Governor of Central Java Ganjar Pranowo.
(skt/vws)
(Gambas:Video CNN)