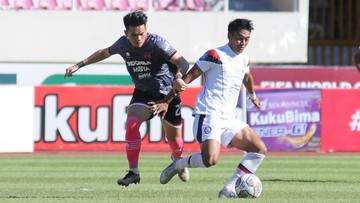 Jakarta, CNN Indonesia —
Arema managed to win dramatically with a score of 1-0 over Persita in the continued match of League 1, Saturday (1/4).
The Persita vs Arema match was tight at the Indomilk Arena Stadium, Tangerang, Saturday (1/4) evening. From the beginning to the end of the game the two teams exchanged attacks.
However, the poor finishing made both teams unable to score until the 80th minute.
It was only in the 86th minute that Arema received a penalty after Persita defender Yohanes Kandaimu tackled Renshi Yamaguchi.
Rizky Dwi Febrianto managed to score a goal after taking advantage of the rebound from his own penalty which was blocked by Persita goalkeeper Adhirya Harlan.
Until the match ended there were no additional goals that were able to be created by both teams. Arema won 1-0 over Persita.
This victory made Arema rise to 11th place in the Liga 1 standings by picking up 41 points from 31 matches played.
Meanwhile Persita remains in ninth position with 44 points from 32 matches.
Composition of Persita vs Arema Players in League 1
Persita XI: Adhitya Harlan; Muhammad Rifqi, Andrean Rindorindo, Arif Setiawan, Muhammad Toha; Sin Yeong Bae, Fahreza Sudin, Rifky Dwi; Heri Susanto, Muchamad Wildan, Ramiro Fergonzi
Arema XI: Adilson Maringga; Johan Alfarizi, Bagas Adi, Rizky Dwi, Joko Susilo; Evan Dimas, Jayus Hariono; Dendy Santoso, Abel Camara, Kevin Armedyah
(rhr)