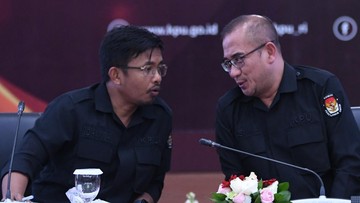 Jakarta, CNN Indonesia —
The Republic of Indonesia's General Election Commission (KPU) stated that the Prima Party passed the administrative verification stage as a participant in the 204 Election.
This decision was written in the KPU's announcement letter signed by KPU chairman Hasyim Asyari dated March 31 2023.
"Adil Makmur People's Party, Meets the Requirements," the letter read, Saturday (1/4).
With this, the Prima Party will move on to the next stage to become a party participating in the election, namely, the factual verification stage.
KPU commissioner Idham Holik conveyed that factual verification of the Prima Party was carried out by the KPU at the Prima DPP office this afternoon.
"At 13.00 this afternoon the General Elections Commission (KPU) will carry out a factual verification," Idham wrote in his statement, Saturday (1/4).
The KPU initially stated that the Prima Party would not participate in the 2024 Election. The Prima Party then filed a lawsuit with the Central Jakarta District Court and resulted in a decision ordering the KPU to postpone the 2024 Election.
Then, the Prima Party again filed a lawsuit with the Bawaslu as a follow-up to the Central Jakarta District Court decision. Bawaslu decided that the KPU would give the Prima Party the opportunity to re-verify the improvements.
With this decision, Bawaslu ordered the KPU to give Prima the opportunity to submit documents required for repairs to the reported party based on the official report on the recapitulation of administrative verification results before repairs using the Sipol no later than 10×24 hours since the Sipol access was opened.
(nfl/ain)
(Gambas:Video CNN)