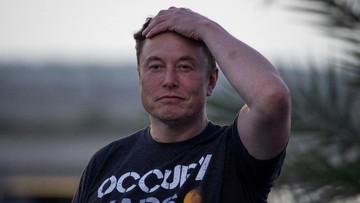 Jakarta, CNN Indonesia —
Elon Musk on Friday (31/3) asked judges to dismiss a US$258 billion lawsuit alleging he was involved in a scheme to inflate the value of the Dogecoin cryptocurrency.
In documents filed late at night in Manhattan federal court, lawyers for Musk and Tesla said the lawsuit filed by Dogecoin investors was a "lavish work of fiction."
Lawyers for Musk said the plaintiffs also never explained how his client defrauded any party, or the risks posed by his tweets.
In addition, lawyers also claim that Musk's remarks made on Twitter such as "Dogecoin Rulz" or "no highs, no lows, only Doge" are too abstract to serve as the basis for a lawsuit.
"There is no violation of law in tweeting words of support, or funny pictures, for a legal cryptocurrency with a market value of nearly US$10 billion," Musk's lawyers said.
"This court must put an end to the fantasies of the plaintiffs and reject them."
In the document, Musk's lawyers also dispute Dogecoin investors' claims that cryptocurrencies are securities instruments.
Meanwhile, the lawyers for the plaintiffs believe they will win the case.
"We are very confident that this case will be successful (won)," said Evan Spencer, attorney for the investors via email, as quoted by Reuters.
The plaintiffs previously sued Elon Musk in court alleging Musk intentionally boosted the value of Dogecoin by 3600 percent in the last two years, and then allowed it to crash.
They say Musk's actions benefited the other party up to billions of dollars, while investors lost.
The plaintiffs also refer to Musk appearing on the "Weekend Update" segment of NBC's hit show "Saturday Night Live". At the time Musk appeared as a fictional financial figure and called Dogecoin a "fraud."
The lawsuit is valued at US$258 billion or almost three times the decline in the market value of Dogecoin in the 13 months before the lawsuit was filed.
This is not the first time Elon Musk's tweets have led to legal cases.
Earlier on February 3 he was found not guilty by a San Francisco court over an August 2018 tweet about the privatization of Tesla.
(Reuters/vws)