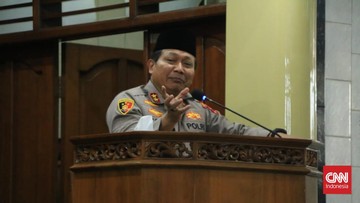 Jakarta, CNN Indonesia —
The East Java Regional Police Chief, Inspector General Toni Harmanto, claimed that his party had fired hundreds of its members because they were involved in drug abuse.
Toni said this during a friendly gathering with the congregation of Al-Falah Mosque on Jalan Raya Darmo, Surabaya, in the Friday Confide forum, Friday (31/3).
Toni said that the East Java Regional Police and their staff have made every effort to suppress and prevent the circulation of narcotics.
In fact, said Toni, there were members of the police who were involved, his party had also taken firm action up to the dishonorable dismissal of members of the Police.
"Of course the steps we take must also be based on the rules that have been set. I have fired hundreds of police officers. We even made requests to prosecutors and judges to give more severe sanctions than others," Toni said in a written statement, Saturday (1/4). ).
Unfortunately, Toni did not provide details on the number of Polri members in East Java who were involved in the narcotics abuse case, as well as how many people were fired.
On the same occasion, Toni stated that the East Java Regional Police are ready to listen to complaints from residents and the public regarding the duties of police services.
He admits that as a member of the National Police, there are still many imperfections and of course input is needed to improve the duties carried out.
Meanwhile regarding Kamtibmas, ahead of Eid al-Fitr the needs of the community increase. This then also raises the potential for increased crime.
"This, of course, also does not rule out the possibility of criminals also increasing, but in a different way," he said.
In the last three months, said Toni, there has been an increase in crime rates, such as motor vehicle theft. He emphasized that the East Java Regional Police and the ranks of the Regional Police had already exposed the disclosure of motor vehicle theft cases.
However, he expects the community's role in maintaining security and order in their respective environments, because it is still needed.
Apart from that, the East Java Police Chief also received complaints about firecrackers which could disturb Kamtibmas, so the community wanted the police to be able to deal with firecrackers.
"The police have uncovered several cases related to this matter and have named several suspects. Police steps will continue to be firm," he concluded.
(frd/wiw)
(Gambas:Video CNN)