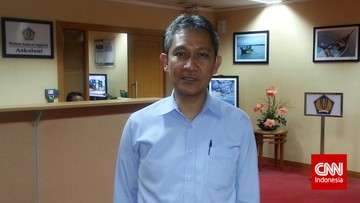 Jakarta, CNN Indonesia —
The Directorate General of Customs and Excise, Ministry of Finance, finally opened his voice about the 'singing' of alleged money laundering and suspicious transactions of IDR 189 trillion related to the sale of imported gold bars which were revealed by the Coordinating Minister for Politics, Law and Human Rights Mahfud MD some time ago.
Director General of Customs and Excise Askolani said the origin of the Rp189 trillion suspicious transaction disclosed by Mahfud MD was.
He explained that in 2016, Customs and Excise Main Service Office (KPU) officers in Soekarno Hatta took action against 1 company that was exporting gold.
At that time, his team found 218 kg of gold valued at US$6.8 million, which were suspected to have been exported from customs violations. Form of violation; The gold is called jewelry, but it turns out to be gold bars (ingots).
They then investigated the case. After the case file is complete (P21), one individual suspect is then brought to court. However, in 2017, Customs lost the trial after the court found the defendant not guilty of committing a crime.
"In court, in 2017 it was not proven to have committed a crime, so it was considered not a crime," said Askolani in a virtual press conference, Friday (31/3).
After a few months, it again appealed. This time, his party won and the suspect received a criminal sanction of 6 months and a fine of IDR 2.3 billion, the company involved was also fined IDR 500 million.
However, the suspect carried out a review (PK) in 2019. As a result, Customs and Excise lost again so that the reported party was declared not to have committed a crime.
In 2020, his party will again conduct an assessment of 9 corporate taxpayer entities exporting gold worth a total of IDR 189 trillion. Learning from the PK results of the 2016 case, the results of the assessment finally concluded that there were no customs violations.
"From the joint review, learning from the 2017 PK joint decision, we and PPATK stated that there was no customs crime," he said.
In the same place, Deputy Minister of Finance Suahasil Nazara explained that ML is always related to predicate crimes (TPA). When the TPA is not proven by the court, the TPPU does not advance.
(Gambas:Video CNN)
"The PPATK report with a total value of IDR 189 trillion in and out was received by DGCE and followed up with the result that no indications of violations were found in the customs sector. This indication was stated in a meeting with PPATK in August 2020," said Suahasil.
The Coordinating Minister for Political, Legal and Security Affairs (Menko Polhukam) Mahfud MD previously accused that there was an alleged money laundering of IDR 189 trillion that was covered up by the Minister of Finance Sri Mulyani's men regarding the alleged sale of imported gold bars.
He conveyed this while attending a public hearing (RDPU) with Commission III of the DPR RI regarding the Rp349 trillion odd transaction at the Ministry of Finance which was held at the MPR/DPR Complex, Senayan, Jakarta, last Wednesday (29/3).
Mahfud explained that the IDR 189 trillion finding was an alleged excise money laundering with 15 entities related to the import of gold bars. The excise letter, said Mahfud, was allegedly manipulated with the statement "raw gold". Even though gold bars have been formed.
"Imported gold bars that are expensive. But in the excise bills it's raw gold." How do you get the gold already made, how come you say raw gold? 'No, this is raw gold but it was printed in Surabaya', I searched for Surabaya and found nothing. It concerns billions of dollars but is not examined," he said.
(skt/agt)