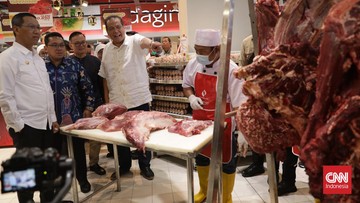 Jakarta, CNN Indonesia —
Founder and Chairman of CT Corp Chairul Tanjung said the Ramadan Midnight Sale will still be held once again at Transmart after April 1, 2023.
"Twice this month, twice during Ramadan. There is one more (Ramadan Midnight Sale), but you can't tell the date," said CT at Transmart Cempaka Putih, Central Jakarta, Saturday (1/4).
This Midnight Sale promo is officially valid today, 1 April 2023 starting at 19.00-24.00 local time at all Transmart outlets in Indonesia.
CT witnessed firsthand the enthusiasm of the public in buying electronic goods at Transmart. In fact, he brought along two 85-inch and 65-inch TVs.
He said the Ramadan Midnight Sale promo made the price of a 65-inch TV at Transmart to IDR 8 million. In fact, the discount given is many times over.
"The discount (Ramadan Midnight Sale) does not abort the previous promo. So the attack is not everyday items, the attack is on electronics, electric bicycles, which are expensive," said CT.
"Electronics are subject to significant damage. So they take expensive items. But there are still those who shop (daily necessities) there, electronics are the ones who have to queue really long," he added.
For those of you who are interested in enjoying the 20 percent discount on the Midnight Sale, it is enough to make payment transactions using Allo Prime and Allo Paylater or Bank Mega Credit Cards.
At the Transmart Midnight Sale, there are many products that get a 20 percent discount, ranging from fresh meat, food, household cleaning products, mattresses, electronic goods, to electric bicycles.
(skt/ain)
(Gambas:Video CNN)