Jakarta, CNN Indonesia —
After dozens of hours of fasting, of course, cold and fresh takjil will satisfy the body. Check out the recommendations for sweet takjil recipes that are practical, and of course economical.
What do you think about before breaking the fast? Most people usually think of sweet and cold drinks.
There are also those who prefer snacks and drinks in one 'hap'. Takjil like this are usually in the form of drinks with additional ingredients such as boba or jelly.
The following are recommendations for sweet, practical and economical takjil recipes. Add ice cubes to make it more fresh.
1. Cendol ice recipe
This one drink is increasingly popular thanks to the song of the late Didi Kempot, "Cendol Dawet". This original Indonesian drink uses a mixture of coconut milk and cendol, which is a chewy solid similar to large noodles.
Cendol ingredients:
1 packet hunkwe flour
2 tbsp rice flour
500 ml of water
2 drops of pandan-flavored green coloring
salt to taste
ice water to cover the cendol
Coconut milk sauce ingredients:
2 coconut leaves
1 pack of instant coconut milk
350 ml of water
salt to taste
vanilla powder to taste
Brown sugar syrup ingredients:
300 ml of water
300 g brown sugar, thinly sliced
100 g granulated sugar
1 pandan leaf
See how to make ice cendol in full at this link.
2. Jelly cucumber ice recipe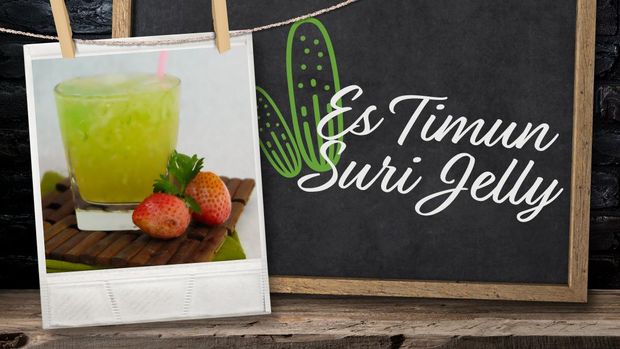 Illustration. Jelly cucumber ice recipe, menu recommendations for refreshing takjil. (CNN Indonesia/Laudy Gracivia)
Cucumber suri seems to be a food that is loved by some households. Cucumber suri is usually used for mixed drinks. The taste is not too strong so you are free to mix it with various flavored syrups.
This time, try making cucumber ice cream with a mixture of cucumber and jelly which is chewy and delicious.
Ingredients:
1 small cucumber, shaved
3 cucumbers, shaved
300 grams of melon-flavored jelly, diced
100 grams of sugar
200 ml of water
1 tsp vanilla
ice cubes as needed
See how to make full jelly cucumber ice at this link.
3. Red bean ice recipe
Red bean is a nutrient-rich bean. Its antioxidant content is good for heart health and prevents the growth of cancer cells.
Apart from takjil, red bean ice is also suitable as a dessert after dinner.
Red bean topping ingredients:
250 grams of red beans that have been soaked overnight
500 ml of water
1 tbsp sugar
1 small or medium block of brown sugar
3 cinnamon sticks
1/2 tsp salt
Coconut milk sauce ingredients:
250 ml of coconut milk
1/4 tsp salt
1 tsp cornstarch, dissolve with a little water
2 pandan leaves
Additional ingredients:
enough sweetened condensed milk
enough red syrup
shaved ice to taste
See how to make red bean ice in full at this link.
4. Dates milk ice recipe
Breaking the fast with dates is the sunnah of the Prophet. This one fruit does have a sweet taste and can immediately provide energy.
You can eat dates just like that or process them into 'sukur', aka date milk. Don't forget to add ice cubes.
Ingredients:
6 dates, remove the seeds
300 ml of whole cow's milk or soy milk
1 tsp honey (optional)
ice cubes as needed
Check out how to make full date milk ice at this link.


(els/asr)