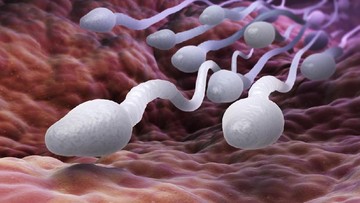 Jakarta, CNN Indonesia —
A Chinese billionaire plans to auction sperm from people who have not taken the Covid-19 vaccination on an online platform.
The auction will be conducted by Guo Wengui, a Chinese tycoon who was exiled to the United States recently for alleged fraud. The plan is for the auction to be held in early June on the Gettr platform.
The sperm auction was carried out based on the assumption that the Covid-19 vaccine could cause infertility. That way, Wengui offers sperm from people who don't get vaccinated.
"The sperm and eggs of our fellow warriors will be auctioned off on our Gettr platform from June 1-6," Wengui said in a live broadcast.
Wengui claims to have saved nearly 6,000 eggs and several million sperm from people who did not take the Covid-19 vaccination.
"We will be auctioning off the best sperm and eggs, including of course my own," said Wengui. The transactions themselves will be carried out using digital currency.
By its supporters, this auction is considered as a form of humanity.
"Giving unvaccinated sperm or eggs is not only an honorable way to gain wealth, but also to save the future of humanity," said one post supporting Wengui's action.
In response to the planned auction, health editor at NewsGuard John Gregory said that Wengui was using a false narrative believing that Covid-19 vaccines could damage fertility.
"Anti-vaccine informers are pushing the claim, even in the face of so many studies showing vaccines don't impair fertility," Gregory explains.
Wengui himself is known as one of the anti-vaccines. He has repeatedly stated that vaccines are biological weapons.
A number of studies have indeed proven that the Covid-19 vaccine does not affect a person's fertility rate.
Finally, a study published in the journal Vaccine also found the same thing. In this study, researchers examined the potential effects of the Covid-19 vaccine on male and female fertility.
Overall, the study findings suggest no association between COVID-19 vaccination and impaired fertility in both women and men.
(asr/asr)