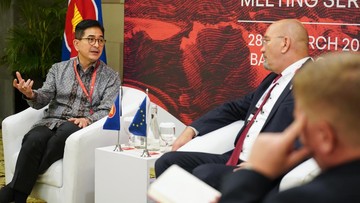 Jakarta, CNN Indonesia —
The ASEAN Business Advisory Council (ASEAN-BAC) encourages greater collaboration to support the digital economy and green economy, with the aim of minimizing risks and maintaining financial stability and sustainable economic growth.
This was stated by the Chair of the ASEAN-BAC, Arsjad Rasjid in a meeting between the Minister of Finance and the Governor of the ASEAN Central Bank (AFMGM) recently. Arsjad stated that sustainable digital and financial transformation is important to overcome global economic challenges, financial gaps and green investment.
In the green economy sector, investment can be increased by accelerating innovation through research and development, foreign investment, as well as environmentally friendly infrastructure development. In addition, it is necessary to expand financial inclusion and digital literacy.
"Especially for MSMEs so that MSMEs are able to get access to capital and participate more in the market," said Arsjad.
The next step that is no less important is the blended finance initiative to encourage private investment towards sustainable energy.
According to Arsjad, policies, regulations, innovative financial structures, standardization and transparency, as well as risk mitigation instruments are the keys to encouraging private investment in sustainable energy.
"In this way, ASEAN can get bigger profits and bigger impacts and better returns that match the risks," he said.
Meanwhile, to overcome the investment gap in climate projects in Southeast Asia, continued Arsjad, it is necessary to increase investment in environmentally friendly projects and cooperation in implementing ISSB standards throughout ASEAN, as well as to harmonize and consistency regarding ASEAN taxonomies.
Cross Border Payment Connectivity with ASEAN QR Code
Another thing that is also the focus of ASEAN-BAC is promoting ASEAN centrality so that it can innovate towards greater inclusivity.
This focus is said to be in line with the five priority issues in policy advocacy efforts, including digital transformation, sustainable development, strengthening the health sector, food security, and facilitating trade and investment.
Arsjad said, ASEAN-BAC has produced eight legacy projects that aim to have a real and sustainable impact on society, with MSMEs as the main beneficiaries.
"One of the superior projects is the ASEAN QR Code under the pillar of digital transformation to promote cross-border payment connectivity," said Arsjad.
Yohanes Lukiman as the ASEAN-BAC Policy Manager who handles digital transformation issues from a business perspective, said that ASEAN QR Code harmonization is needed to support MSME growth through financial inclusion and smooth cross-border transactions.
"With QR codes, cross-border transaction costs will be reduced compared to other payment methods, and can also improve customer experience, minimize dependence and risk on foreign exchange rates through local currency settlement, and enable MSMEs to accept payments from any ASEAN citizen," said John Lukiman.
On the other hand, creating a supportive and dynamic ecosystem for MSMEs including startups to innovate by providing incentives such as fair tax treatment, simplification of license requirements, and ease of compliance procedures is also important. Moreover, ASEAN has a rapidly growing digital economy.
"To achieve this goal, we will continue to work closely with the ASEAN Secretariat, as well as Ministers of Finance and Central Bank Governors to ensure the private sector is engaged in promoting sustainable economic growth, and addressing financial challenges through digital transformation, and sustainable financing in the region. ," said Arshad.
(rea)