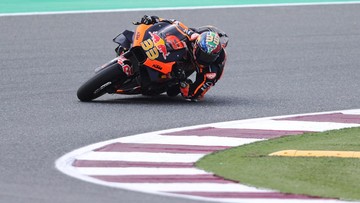 Jakarta, CNN Indonesia —
Red Bull KTM Factory Racing racer Brad Binder managed to win the 2023 Argentina MotoGP sprint race, Sunday (2/4) in the morning WIB. Marco Bezzecchi took second place and Luca Marini took third place.
The 2023 Argentina MotoGP Sprint Race takes place at the Autodromo Termas de Rio Hondo, on Sunday (2/4) WIB.
At the start of the race, Franco Morbidelli took the lead after starting. But Morbidelli was then overtaken by Alex Marquez in the first corner.
Alex Marquez managed to lead on the first lap, but on the straight track or at the start line Morbidelli managed to overtake to lead the race.
In the middle of the second lap, Alex Marquez went wide so that second place was taken by Brad Binder and third place was occupied by Luca Marini. Meanwhile, Alex Marquez was fourth followed by Francesco Bagnaia.
Brad Binder appeared so fast that he managed to take the leading position on the third lap after overtaking Morbidelli.
While on the third lap there was also a fierce duel between Alex Marquez and Bagnaia to fight for fourth position. But Alex Marquez was still able to secure fourth position.
On the fourth lap, Binder was still in the lead, followed by Morbidelli and Marini. Then Alex Marquez remained fourth, but the fifth position is now occupied by Marco Bezzecchi who shifted Bagnaia.
On the fifth lap, Bagnaia managed to take fourth place followed by Alex Marquez and Bezzecchi. Meanwhile, Binder still leads Morbidelli by 0.3 seconds. Meanwhile, Fabio Quartararo is still stuck in 10th place.
On the seventh lap, Bezzecchi was able to overtake Bagnaia to take fourth place.
Meanwhile, on the eighth lap, Aleix Espargaro had an accident at the third corner which prevented him from continuing the Sprint Race.
On the other hand Marco Bezzecchi managed to push into second place followed by Luca Marini. Meanwhile, Morbidelli fell to fourth place followed by Bagnaia.
Until finally Binder won the 2023 Argentina MotoGP Sprint Race followed by Bezzecchi and Marini. Meanwhile, Bagnaia finished in sixth place.
The 2023 Argentina MotoGP race will be held at 24.00 WIB on Sunday night. The live broadcast of the Argentina MotoGP Race 2023 can be watched via the Trans7 television station.
Argentina MotoGP Sprint Race Results 2023:
1. B. BINDER 19:56.873
2. M. BEZZECCHI +0.072
3. L. MARINI +0.877
4. F. MORBIDELLI +2.354
5. A. MARQUEZ +2.462
6. F. BAGNAIA +2.537
7. M. VIÑALES +2,643
8. J. MARTIN +3.754
9. F. QUARTARARO +3.856
10.J.MILLER +5.143
(Gambas:Video CNN)
(rhr)