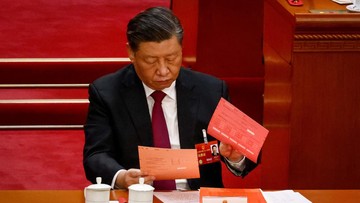 Jakarta, CNN Indonesia —
President Xi Jinping has purportedly removed all old ideological bases from China's political rulebook or guidelines for governing.
The ideology in question includes Marxism, Leninism, Mao Zedong thinking. Maoism is also reportedly no longer in the handbook for the government. The main thoughts of previous Chinese presidents such as Deng Xiaoping, Jiang Zemin, and Hu Jintao were also deleted in the guidebook.
Radio Free Asia (RFA) reported that Xi Jinping requires members of his cabinet and State Council to submit to the top leaders of the Chinese Communist Party in all "major decisions," rather than adhere to all the ideologies and thoughts of previous leaders.
The change came after Xi Jinping secured China's third term as president this year. He emphasized that China's executive power is now in the hands of the leaders of the Chinese Communist Party rather than ministers and other administrative officials.
(Gambas:Video CNN)
The new edition of the guidebook without major ideology was first published on China's official website on March 18 entitled "Work Procedures for the State Council."
The National Assembly officials under Prime Minister Li Qiang are now only required to submit to Xi Jinping's political thinking. The main guidebook has now been cut from 64 pages to 43.
Meanwhile, the order to comply with the directives of the Communist Party Central Committee led by Xi Jinping has not changed. Officials are also required to report major decisions, major events, and important situations to the Central Committee according to the specified time.
Keywords such as "administration according to law, seeking truth based on facts, democracy, openness, and pragmatism" in previous references have been lost in the rule book. Similarly, the obligations of the State Council "to correct illegal or inappropriate administrative actions" or "to guide and supervise the bureaucracy," are no longer listed in the book.
Australia-based China affairs expert Zhang Guangzhong said the former powers of the State Council had moved to the Central Committee. This can be seen from the trimming of the guidebook for the government.
"This revision of the rules emphasizes the importance of being loyal to Xi Jinping by seeking to erode the influence of Mao, Jiang and Hu in an effort to reclaim control of the State Council (by party leaders)," Guangzhong said, as quoted by RFA.
"The State Council's freedom to issue policies is also limited in the revision of the guidebook, while (leadership) centralization continues. We (also) see Xi taking a role in guiding the State Council's work," he said.
(bac)