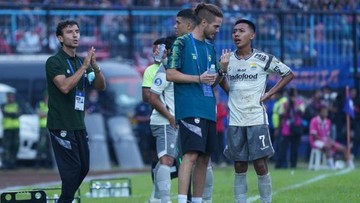 Jakarta, CNN Indonesia —
Luis Milla Aspas and Marc Klok apologized to Bobotoh after Persib Bandung lost 0-2 to Persija Jakarta at the Patriot Candrabhaga Stadio, Bekasi on Friday (31/3) night.
In the postponed match of the 2022/2023 League 1, Persib failed to endanger Persija's goal. The defense guarded by Ondrej Kudela and his friends made Maung Bandung's ranks numb.
"I apologize to our fans for losing today. This is self-criticism for me personally. I think there was a tactical error, if the players don't appear to be performing well," said Milla after the match.
"I congratulate Persija with a performance with an attitude of wanting to win the game. I think this is one of their best performances," he said.
Klok also said the same thing. According to the defensive midfielder, the defeat to Persija must be used as criticism for all elements of the team so that they can rise in the remaining three matches this season.
"Congratulations to Persija. We have to be even more aggressive in the remaining matches. I'm sorry for Bobotoh. We have to criticize ourselves. There are still three matches left and we have to win in these three matches," he said.
With this defeat Persib is no longer possible to win the competition title. PSM Makassar has confirmed the title even though there are still three games remaining after winning 3-1 over Madura United, Friday (31/3).
Milla did not forget to congratulate Bernardo Tavares' team. Being able to ensure the title when there are still three games left is considered the fruit of PSM's consistency this season.
"Congratulations to PSM. They are a consistent team and have standards to win this season. We still have three matches so in the next three matches we have to change our attitude," said Milla.
(Gambas:Video CNN)
(abs/jun)