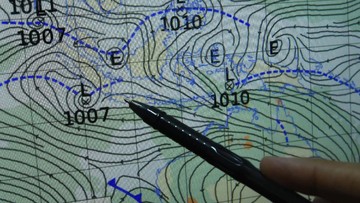 Jakarta, CNN Indonesia —
Tropical Cyclone Herman, whose effects reach Sumatra, Java and Kalimantan, is said to disappear next week.
It was reported that Tropical Cyclone Herman appeared in the Indian Ocean in the south of RI, Thursday (30/3), and had an impact on rain accompanied by strong winds in Lampung, Banten, DKI Jakarta, West Java, Central Java, and Yogyakarta.
Data as of Thursday (30/3) evening said that the maximum wind speed at that time reached 45 knots (83.4 km/h) and a minimum air pressure of 994 mb, moving east-southeast.
"Based on various models, he (Tropical Cyclone Herman) can reach Wednesday (5/4), he just dropped (his speed) at around 30 kilometers per hour. Cyclones can last up to a week," said the Meteorological Researcher from the Meteorology and Climatology Agency. Geophysics (BMKG) Deni Septiadi when contacted by CNNIndonesia.com, Friday (31/4).
He said the effect of rain in various regions at this time was basically not only caused by Tropical Cyclone Herman. A number of other factors contributed to the recent weather conditions.
First, the Intertropical Convergence Zone (ITCZ).
This is a low pressure center area around the equator where the northeast and southeast trade winds meet. This zone is also known for its monotonous and windless weather.
"If you look at this, it's very active, what's clear is that our area has a lot of clouds. All the clouds are full in our area, especially in Java," said Deni.
"This is not because of a cyclone, but because of many factors, ITCZ, there is a convergence of winds that meet each other, surely the clouds must be massive there," he added.
Second, the Asian Monsoon, which is a wind flow from the Asian Continent across RI that brings rainy season winds, which is still active.
"The monsoon from Asia is still active, plus the Herman flow pattern, indirectly massive clouds will grow in Kalimantan and around Java. The potential for moderate to heavy rain, even more," said Deni.
"The average rain duration for Comulus clouds is at most about 1 hour, but it could be more because the clouds keep changing."
Beware of Sulawesi
Climatology Researcher at the National Research and Innovation Agency (BRIN) Erma Yulihastin said the effects of Tropical Cyclone Herman had hit Kalimantan.
"Even wind rain that occurred in East Java this afternoon is clearly a rain system that is the same as Kalimantan," he tweeted on Twitter, Friday (31/3).
"The strengthening of the wind at that location is due to the remote vortex effect from Herman in the southern Indian Ocean."
He also estimated that the effects of this cyclone could reach Sulawesi due to the wind factor. The impact can be in the form of high waves.
"Herman creates a wind shear (pink-red wind) in a north-south direction which is followed by increased cloud activity and rain in the wind shear area. This system continues to move east. Tomorrow (1/4) thunderstorms will reach Sulawesi, Lombok, Bali, NTB. Beware of Sulawesi!"
"I emphasize this for Sulawesi because rain streams from Kalimantan accompanied by strong winds from the Java Sea will approach Sulawesi. These strong winds have the potential to cause high waves so that Sulawesi is not only hit by rainstorms on land but also storm surges from the sea!" he continued.
Previously, experts revealed the effects of extreme weather, such as very heavy rains, floods, droughts that are drier than usual, which have been increasingly prevalent in recent years, are closely related to global warming.
This phenomenon itself occurs due to environmental damage, which is triggered, among other things, by addiction to fossil fuels, such as gasoline and coal.
(can/arh)