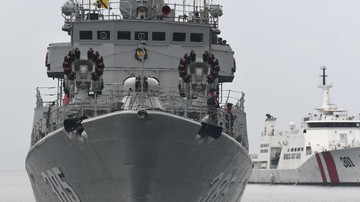 Jakarta, CNN Indonesia —
The Indonesian Navy inaugurated the Kaimana Naval Base (Lanal), West Papua. Lanal Kaimana is a strength development unit from the Naval Post (Posal).
Commander of the Fleet Command (Pangkoarmada) III Rear Admiral Agus Hariadi at the same time appointed Marine Major Sailenius Amelion Wihyawari as the first Lanal Commander.
"With the aim of maximizing performance, redeveloping the maritime potential of coastal areas, encouraging the empowerment of fishermen through maritime security and security surveillance, and building maritime defense starting from the maritime community," said Agus in a written statement, Thursday (30/3).
Lanal Kaimana is a base under the control of the XIV Sorong Naval Main Base (Lantamal).
Its formation was based on the aim of advancing Papua, especially the Kaimana region. The area has waters covering an area of ​​17,500 square kilometers and is said to be rich in resource potential.
"The Kaimana area has a fairly strategic position and is in the southern part of Papua Province and is directly facing the Arafuru Sea, which is very profitable from the fisheries and maritime sectors, so it needs tighter supervision from the Indonesian Navy and strengthens sea defense in Eastern Indonesia," said Agus.
(yoa/bmw)
(Gambas:Video CNN)