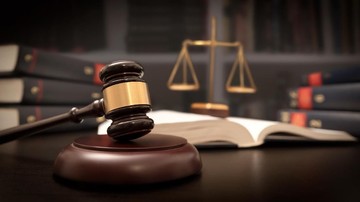 Jakarta, CNN Indonesia —
The Panel of Judges at the Corruption Court (Tipikor) at the Bandung District Court, West Java, ordered two Supreme Court Judges to appear as witnesses at the trial of non-active Supreme Court Justices Sudrajad Dimyati et al.
The two justices who were ordered to appear as witnesses were Samsul Maarif and Ibrahim. In addition, the Bandung Corruption Court also asked the Secretary of the Supreme Court (MA) Hasbi Hasan to be a witness in the trial for alleged bribery in handling the case on Wednesday, April 5, 2023.
"The prosecutor team has now sent a summons to appear at the trial of two Supreme Court witnesses, namely Samsul Maarif and Ibrahim, to appear on the agenda for Wednesday's hearing (5/4) at the Corruption Court at the Bandung District Court," said Head of the KPK News Section, Ali Fikri via written statement, Friday (31/3).
"At the hearing in question, the prosecutor team will also present witnesses Hasbi Hasan (Secretary of the Supreme Court) and witnesses Dadan Tri Yudianto," he continued.
Ali asked the four people to cooperate in fulfilling the summons by the KPK prosecutor team. This is a form of respect for the ongoing legal process.
Non-active Supreme Court justices Sudrajad Dimyati et al were charged with accepting a bribe of Sin$200,000 (around Rp.2 billion) related to the handling of cases at the Supreme Court.
The crime involved civil servants at the Supreme Court Registrar, namely Desy Yustria and Muhajir Habibie as well as judicial judges as well as substitute clerks for MA Elly Tri Pangestu.
The bribes were given by lawyers Theodorus Yosep Parera and Eko Suparno as well as debtors of the Intidana Heryanto Tanaka and Ivan Dwi Kusuma Sujanto Savings and Loans Cooperative (KSP).
Sudrajad was charged with violating Article 12 letter c or Article 11 in conjunction with Article 18 of the Law on the Eradication of Criminal Acts of Corruption (UU Tipikor) in conjunction with Article 55 paragraph 1 1 of the Criminal Code.
(ryn/kid)
(Gambas:Video CNN)