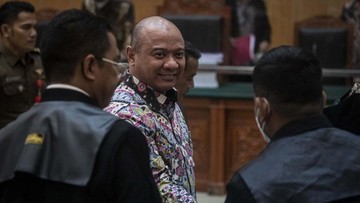 Jakarta, CNN Indonesia —
Hibnu Nugroho, a criminal law expert at Jenderal Soediman University, believes that the death penalty for former West Sumatra Regional Police Chief Teddy Minahasa in the narcotics trafficking case is appropriate.
He also hopes that the death sentence can create a deterrent effect, especially among law enforcement officials so they will no longer mess around with narcotics.
"From a legal point of view, hopefully the death penalty will create a deterrent effect for other potential perpetrators, so they don't mess around with drugs. Especially if they are law enforcement officers," said Hibnu in his statement, Friday (31/3).
Hibnu agrees with the public prosecutor (JPU) who thinks that Teddy's actions have tarnished the image of the Police. Moreover, he said, Teddy is a high-ranking officer who should be an example.
"Teddy cannot set an example for other police officers. He is another high-ranking officer," he said.
Apart from that, according to Hibnu, Teddy also denies his actions which hindered the trial.
It was reported that Teddy Minahasa, the defendant in the drug trafficking case, was charged with the death penalty. He was deemed proven to have no right and no authority to distribute 5 kilograms of methamphetamine from West Sumatra to Jakarta.
The public prosecutor asked the panel of judges to try Teddy for committing a crime regulated in Article 114 Paragraph (2) of Law 35 of 2009 concerning Narcotics in conjunction with Article 55 Paragraph (1) 1st of the Criminal Code.
The Attorney General's Office said that the Public Prosecutors demanded the death penalty for Teddy because he was seen as the main actor. Therefore, the punishment demanded must be heavier than the other defendants in this drug case.
"One of the considerations of the Public Prosecution Service is that the defendant is an intellectual father or the main actor in all cases handled by the Attorney General's Office, so the sentence must be heavier than the other defendants," said Head of the AGO's Legal Information Center Ketut Sumedana in a written statement, Thursday (30/3).
(mnf/tsa)
(Gambas:Video CNN)