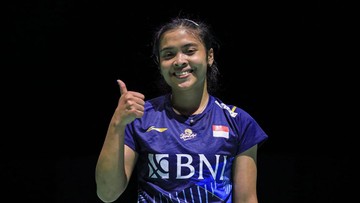 Jakarta, CNN Indonesia —
Gregoria Mariska managed to qualify for the semifinals of the Spain Masters 2023 after defeating Line Christophersen with a score of 21-10, 21-17.
In the first game, Gregoria appeared slick and managed to dominate the match from the start. Gregoria could lead 9-2 and continued to be 11-3 at the interval.
This long advantage can be continued well by Gregoria. Gregoria grabbed five straight points to move away 18-4. Even though Line won a number of points, Gregoria was able to close the first game with a score of 21-10.
Entering the second game, Gregoria won even more fierce resistance. Gregoria actually had a comfortable second game.
He led 10-4 and closed the interval with a score of 11-8. But after the interval, Line Christophersen was able to win six consecutive points and turned to lead 14-11.
In lagging conditions, Gregoria was able to catch up. Gregoria managed to reply with a record of four consecutive points which brought her back to lead 17-15.
Gregoria maintained the two-point difference up to 18-16. The match was even more tense because Line was able to win the next point and narrowed the point difference to 17-18.
In the following play, Line Christophersen's off-court shot put Gregoria up 19-17. Gregoria then won a match point at 20-17 after Gregoria's punch to the baseline still fell on the court.
Gregoria's trick succeeded in making Line step dead. Gregoria closed the game with a 21-17 victory.
(ptr)