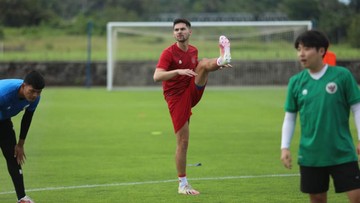 Jakarta, CNN Indonesia —
Sandy Walsh cheered on the U-20 Indonesian national team players after Indonesia was canceled from hosting the 2023 U-20 World Cup.
Sandy asked Hokky Caraka and his friends to hold their heads up even though they had to feel deep sadness. The naturalized Indonesian national team player also asked all U-20 Indonesian national team players to continue to keep their dreams.
"Keep your heads up. Keep dreaming, keep believing, keep practicing," Sandy wrote on his Instagram account stories.
The U-20 Indonesian National Team must put a lid on their dream of playing in the 2023 U-20 World Cup following the decision made by FIFA. The parent organization of the world's highest football revoked Indonesia's rights following the rejection that arose regarding the participation of the U-20 Israeli national team.
FIFA first canceled the draw for the U-20 World Cup which was scheduled to take place on March 31. A few days later, FIFA issued an official decision to revoke Indonesia's host status on March 29.
(Gambas:Instagram)
This FIFA decision made the U-20 Indonesian National Team players feel sad. This can be seen from the photos and videos uploaded by PSSI on social media and YouTube.
A number of players even poured out their disappointment on the Instagram account of the Governor of Central Java, Ganjar Pranowo. Ganjar was one of the figures who refused the arrival of the Israeli national team to Indonesia.
FIFA itself has accepted a bid from Argentina as a candidate to host the 2023 U-20 World Cup to replace Indonesia. In the next few days the official decision on the definitive host for the 2023 U-20 World Cup will be announced by FIFA.
(Gambas:Video CNN)
(jal/har)