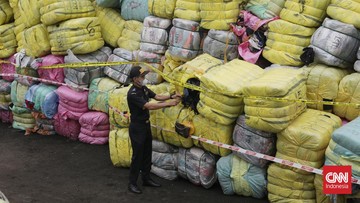 Jakarta, CNN Indonesia —
The Indonesian Textile Association (API) said that the number of illegally imported used clothes entering Indonesia was enormous. In fact, it reached 25 thousand tons last year.
API Chairman Jemmy Kartiwa Sastraatmadja said the amount was obtained based on export data from neighboring countries to Indonesia. In this case, most imports come from Malaysia.
"If we look at the data we have collected from Trademaps 2022, it is mostly from Malaysia," he said at a press conference regarding Illegal Textile Imports in Indonesia, Friday (31/3).
Jemmy explained that based on Trademaps data, imports of illegal used clothing throughout 2022 were recorded at 25,808 tons. Where these came from six countries, Malaysia dominated as much as 24,544 tons, and South Korea as many as 588 tons.
Then from China as much as 358 tons, from Taiwan as much as 188 tons, and from Japan as much as 92 tons, and from Thailand as much as 38 tons.
"Importing illegal second-hand clothes, for example, one kilo is four pieces, then 25.8 thousand tons is around 350 thousand pieces per day of importing illegal clothes," he explained.
The Minister of Cooperatives and SMEs, Teten Masduki, revealed that the flood of illegal used clothing imports had hit the middle and lower-middle textile industries such as SMEs. Thus, the monitoring steps taken by the government are considered to be very appropriate.
"This was recorded outside, not in Indonesia, from the exporting country, because in Indonesia it is considered illegal, so it is not recorded," concluded Teten.
(Gambas:Video CNN)
(ldy/sfr)
(Gambas:Video CNN)