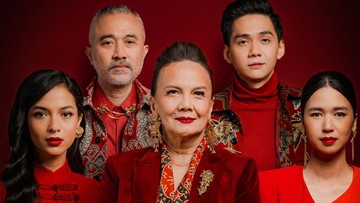 Jakarta, CNN Indonesia —
The Indonesian Film Festival Committee (FFI) chose five actors as ambassadors for the 2023 Indonesian Film Festival. They are Putri Marino, Chicco Kurniawan, Laura Basuki, Lukman Sardi, to Christine Hakim.
"They were chosen to be the 2023 FFI Ambassadors based on their achievements and role in Indonesian film industry, both on a national and international scale," wrote the FFI Committee in a media broadcast received by CNNIndonesia.com, Thursday (30/3).
Christine Hakim was listed as the winner of 8 Citra Cups for the category of Best Female Main Actor, Best Supporting Actress, and winner of the 2016 FFI Lifetime Award. Then Lukman Sardi won the Citra Cup for the 2007 FFI Best Male Supporting Actor category.
Meanwhile, Laura Basuki won the Citra Cup in the category of Best Female Lead Actor at FFI 2010 and 2020, then Putri Marino won the Best Main Female Actor category at FFI 2017 and 2022, and Chicco Kurniawan won the Citra Award for Best Male Actor at FFI 2021.
"They will serve as the face of FFI until the Awards Night which will be held on November 18, 2023," said the Committee.
(Gambas:Video CNN)
In addition, the FFI Committee chaired by Reza Rahadian announced that this year's Indonesian Film Festival would have the theme "Image". The name was chosen with the meaning of "shadow" or "image" which was inspired by a poem by Usmar Ismail.
"'Citra' is pinned as the name of the Indonesian film award which has been given since 1967 and has become the highest symbol of Indonesian film supremacy," wrote the FFI Committee.
"The Citra Cup which is awarded every year is a thread of Indonesian film achievements that forms a map of the dynamics and progress of Indonesian film before, now and in the future," they continued.
"This theme was chosen as the general theme of the festival and does not bind the themes of the films that will participate in FFI 2023," wrote the FFI Committee.
Regarding film participation for the FFI 2023 competition, the Committee also officially opened FFI 2023 registration. Registration for all FFI 2023 judging categories was carried out online on their official website.
Long story film registration will be held on 30 March-15 August 2023; then non-length story films which include short stories, documentaries, and animations will be held simultaneously with the registration of film critics on 30 March – 31 August 2023.
In addition to Reza Rahadian as Chair, the FFI Committee until 2023 consists of Garin Nugroho as Head of Judging, Inet Leimena as Head of Events, Linda Gozali as Secretariat, Nazira C Noer and Emira P Pattiradjawane as Public Relations, and Gita Fara in the Business Development sector.
(end)
(Gambas:Video CNN)