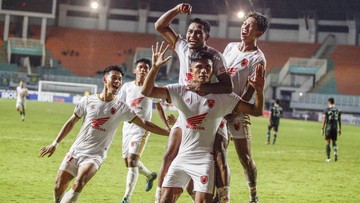 Jakarta, CNN Indonesia —
PSM Makassar managed to win the League 1 this season after beating host Madura United with a score of 3-1, Friday (31/3).
An additional three points from this match made PSM collect 72 points. These points made PSM's numbers unable to be caught up by Persib Bandung in the remainder of League 1 this season.
PSM Makassar was already leading 1-0 when the match had only been running for five minutes through Wiljan Pluim. This goal increased PSM's confidence in the duel against Madura United.
Five minutes later, Pluim again listed his name on the scoreboard. Pluim scored from Yance Sayuri's corner. PSM also had the upper hand with a 2-0 advantage at the start of the match.
After leading two goals at the start of the match, PSM was under more pressure from Madura United. The hosts managed to dominate possession.
But PSM can survive well. The 2-0 score could be maintained by PSM until halftime.
After the first half break, PSM kicked off again at the start of the second half. Kenzo Nambu scored a successful goal in the 48th minute.
Kenzo Nambu stole the ball in the Madura United defense area. Seeing that goalkeeper Rendy Oscario was advancing from an ideal position, Nambu decided to fire a long-range shot from around 40 meters.
Nambu's shot slid into the goal without Rendy Oscario being able to block it.
Three minutes later, Madura United scored a goal back. Starting from Lulinha's pass to the far post, Hugo 'Jaja' Gomez was in the right position to head the ball into the goal.
After scoring the goal, Madura United continued to pound on the PSM defense in search of additional goals. But PSM managed to maintain a 3-1 advantage until the end of the fight.
PSM also succeeded in securing the League 1 title this season as soon as the match ended. The PSM players and coaches also ran onto the field to celebrate the victory.
Player lineup
Madura United (4-3-3)
Rendy Oscario; Alekvan Djin, Hasyim Kipuw, Cleberson, Novan Setyo Sasongko; Lee Yoo Jon, Zulfiandi, Jaja; Esteban Vizcarra, Beto Gonçalves, Lulinha
PSM Makassar (3-5-2)
Reza Arya Pratama; Erwin Gutawa, Yuran Lopes, Safrudin Tahar; Yance Sayuri, Ananda Raehan, Akbar Tanjung, Kenzo Nambu, Yakob Sayuri; Wiljan Pluim, Everton
(ptr)