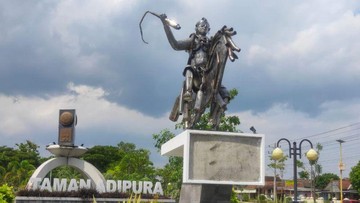 Jakarta, CNN Indonesia —
The Bantul Police, DI Yogyakarta, made a lumping horse statue out of hundreds of noisy exhausts confiscated from motorcyclists.
"The idea to build a lumping horse statue made from brong exhaust came about when I saw the large number of confiscated brong exhaust," said Bantul Police Chief AKBP Ihsan quoting Antara, Friday (31/3).
Ihsan said that the lumping horse statue, which is composed of hundreds of exhausts, was placed at the Adipura Bantul Monument as a means of educating the public.
The statue was placed there as a monument to remind the public that there is a ban on the use of noisy exhausts.
In addition to being confiscated, the owner of the brong exhaust can also be subject to 1 month in prison or a fine of IDR 250,000.
Ihsan hopes that the statue of a noisy muffler can raise the awareness of road users so they don't break the rules.
"We confiscated this noisy muffler because it violated the rules and disturbed public order and comfort," said Ihsan.
Meanwhile, Head of Public Relations of the Bantul Police Iptu I Nengah Jeffry Prana Widnyana said the lumping horse statue was in accordance with the culture of the Javanese people in Bantul.
He said the lumping horse art was still preserved among the people of Bantul. Jeffry hopes that the lumping horse statue can also move the community to always maintain the lumping horse art.
"This art, which is also often called jatilan or jaran kepang by the Javanese people, displays a group of soldiers riding a horse which reflects the spirit of heroism," he said.
He hopes all parties to take care and treat the statue.
"Hopefully this lumping horse statue can increase public awareness to be wise and polite in driving," he said.
(Between/bmw)
(Gambas:Video CNN)