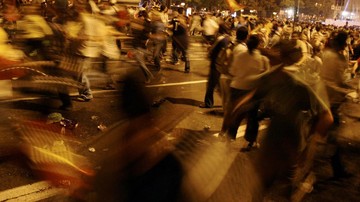 Jakarta, CNN Indonesia —
Hundreds of people were involved in the brawl that took place on the seafront of Wika, Kalibaru, Cilincing, North Jakarta, Friday (24/3).
In this incident, a member of the police, Aipda Y was injured while trying to break up the brawl.
Head of North Jakarta Metro Police Criminal Investigation Unit AKBP Iver Son Manosoh said that when the brawl occurred, Aipda Y, who was at the location, tried to intervene and disperse it. However, Aipda Y was actually hit by a sharp weapon and hit his knee.
"The victim suffered quite serious injuries, and is currently being treated at the hospital," said Iver in his statement, Friday (31/3).
Gang brawl
Iver said that the brawl involved two groups, namely Gang Buntu Cilincing and Gang Bedeng.
"From these two groups they prepared sharp weapons, an estimated number of more than 100 people in this group," said Iver.
Iver explained that the two groups had deliberately met at that location to carry out a brawl. In that event, the two groups also deliberately prepared sharp weapons.
Iver said that his party immediately made an investigation and pursued the perpetrators of the brawl. As a result, five perpetrators were arrested.
The five people arrested were AI (19), HL (22), TH (20), HG (20) and AS (19). From the five people who were arrested dozens of sharp weapons were also confiscated.
Iver said that of the five perpetrators, the average role was to throw a sharp weapon at Aipda Y. There is also a role in preparing sharp weapons and wrapping them in sacks.
Furthermore, Iver said that currently the North Jakarta Metro Police Opsnal Team together with the Cilincing Police Criminal Unit are still pursuing the 96 other perpetrators.
"We are still pursuing him, we have pocketed his identity," said Iver.
(dis/kid)
(Gambas:Video CNN)