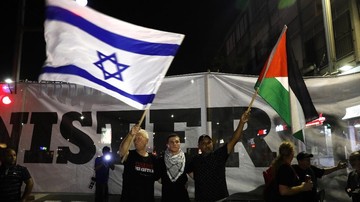 Jakarta, CNN Indonesia —
A number of Palestinian media have been busy highlighting Indonesia's cancellation of hosting the U-20 World Cup after a wave of rejection of the Israeli national team's participation.
FIFA previously officially announced that it had canceled the status of RI U-20 host because of the "current situation." However, they did not explain in more detail the reasons for this revocation.
Media Maan News wrote an article with the title "FIFA cancels Indonesia's hosting of the World Cup because it refuses Israel's participation," Thursday (30/3).
They also wrote that the international football federation had yet to appoint a substitute for RI to be the host.
(Gambas:Video CNN)
In addition, Maan News reported that Indonesia may receive sanctions from FIFA. So far, there has also been no recent statement regarding the sanctions in question.
"The possibility of sanctions against the Indonesian Football Association (PSSI) can also be decided at a later stage," said the media report.
Another Palestinian media, Wattan, also gave something similar on Wednesday.
They wrote a report entitled "Because of the fuss over occupation, Indonesia's right to host the U-20 World Cup was revoked."
Wattan reported that the decision came after Bali Governor Wayan Koster rejected Israel's participation.
"(The decision) was taken after FIFA canceled the group draw after the Governor of Bali refused the presence of the colonial team," said Wattan's report.
Another Palestinian media, Raya, also reported the same thing.
They highlight the political issues that took place before FIFA gave a decision.
"After political problems over his (a number of parties) objections to the participation of the Israeli national team," said Raya's first paragraph.
Raya also includes comments from the former Egyptian national team and football observer, Mohamed Aboutrika.
According to him, Indonesia has an honorable and strong position to be the host.
"If you (FIFA) are not ashamed, do whatever you want. The Zionist occupation is a world epidemic that must be boycotted," said Aboutrika.
He later said, "And double standards still apply at FIFA. Not surprising."
Israel's national team's participation in the Under-20s continues to be debated, even after FIFA issued a decision.
Several parties, from regional heads, politicians, ruling parties, to community organizations, rejected the Israeli National Team.
They reasoned that Indonesia does not have diplomatic relations with Israel. Some others expressed the rejection as a form of RI's support for Palestine.
Palestinian Ambassador to Indonesia Zuhair Al Shun even though he has no objection to the Israeli national team's participation in the U-20 World Cup in Indonesia. He also emphasized that this event had nothing to do with political conflict.
(isa/bac)