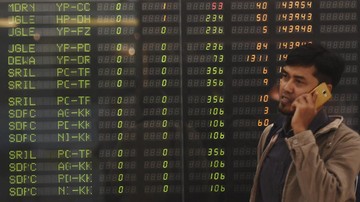 Jakarta, CNN Indonesia —
Stock exchange trading hours will return to normal as before the Covid-19 pandemic starting Monday, April 3, 2023.
"The IDX normalizes the covid-19 (pandemic) pandemic policy as follows: 1. Re-enactment of the Terms of Trading Time on the Exchange and the deadline for submitting reports on selling and/or buying orders from other Securities Exchange Members as conditions before the pandemic, which will be effective on Monday, April 3, 2023," wrote IDX in a statement on the official website, Thursday (30/3).
In its statement, the IDX explained that session I of regular Monday-Thursday trading would return to 09.00.00 to 12.00.00 from previously 09.00.00 to 11.30.00.
Then, session II will return to 13.30.00 – 15.49.59 from the previous 13.30.00-14.49.59.
Specifically for Friday, session I will take place from 09.00.00-13.30.00 and session II will take place from 14.00.00-15.49.59.
In addition, the exchange also lifted the lower Auto Rejection (ARB) percentage limit gradually. In phase I, effective June 5 2023, the price range of IDR 50-IDR 200 applies to 35 percent Auto Rejection (ARA) and 15 percent ARB. Then, the price range of Rp. 200-Rp. 5,000 applies to ARA 25 percent and ARB 15 percent and the price range from Rp. 5,000 and above applies to ARA 20 percent and ARB 15 percent.
In Phase II, effective September 4 2023, the provisions for Symmetrical Auto Rejection namely for a price range of IDR 50-IDR 200 apply ARA and 35 percent ARB, a price range of IDR 200-IDR 5,000 applies ARA and 25 percent ARB. Next, prices above IDR 5,000 apply ARA and 20 percent ARB.
Not only that, the IDX also revoked the policy of relaxing the deadline for submitting financial statements and annual reports of listed companies and publishers, which came into force for Financial Reports for the 2022 period, and is effective as of March 31, 2023.
Furthermore, IDX also revoked the relaxation of the deadline for submission of daily reports and monthly reports for stock exchange members, which will be effective as of April 3, 2023 as stated in the Decree of the IDX Board of Directors number Kep-00043/BEI/03-2023 which was issued on March 21, 2023 .
At the end of March 2020, the OJK imposed stock trading operating hours according to Bank Indonesia (BI) clearing service times during the co-19 pandemic. The first trading session is valid from 09.00 to 11.30 WIB.
While the second session starts from 13.30 to 15.00 WIB. Trading of the Alternative Market Operator System (SPPA) from 09.00 to 15.00 WIB and operational time for Recipients of Securities Transaction Reports (PLTE) from 09.30 to 15.00 WIB.
(Gambas:Video CNN)
(sfr/agt)