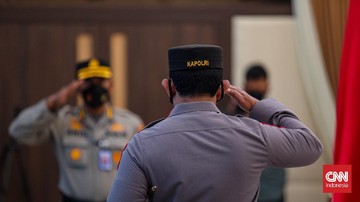 Jakarta, CNN Indonesia —
Inspector General Karyoto was officially appointed as Kapolda Metro Jaya to replace Inspector General Fadil Imran. This inauguration was carried out at the handover ceremony which was held at the National Police Headquarters, Friday (31/3).
Previously, the Indonesian National Police Chief, General Listyo Sigit Prabowo, appointed Karyoto to become the Metro Police Chief via the National Police Chief's Telegram with number ST/713/III/KEP./2023 dated March 27, 2023. The former official, Fadil Imran, held the position of Head of the National Police's Maintenance and Security Agency (Kabaharkam).
Karyoto was assigned as Deputy for Enforcement at the Corruption Eradication Commission (KPK). He has served there since 2020. During his tenure, he has handled several high-profile cases.
Among other things, the corruption case for the export license of lobster seeds or fry which ensnared the Minister of Maritime Affairs and Fisheries Edhy Prabowo, the Covid-19 social assistance corruption case which ensnared the Minister of Social Affairs Juliari Peter Batubara, the corruption case of former South Sulawesi Governor Nurdin Abdullah.
Then the alleged corruption case that dragged the non-active Governor of Papua Lukas Enembe to the alleged corruption case for land acquisition by PD Sarana Jaya in Munjul and Pulogebang, East Jakarta.
Karyoto graduated from the Police Academy (Akpol) in 1990. Apart from working at the KPK, he has held a number of strategic positions in the Bhayangkara corps.
In 2014, Karyoto was entrusted with serving as Dirreskrimum Polda DIY. After a year of service, he was then transferred to become an Associate Policy Analyst in the Criminal Investigation Unit of the National Police.
Then in 2016, he got an assignment outside the Polri institution. At that time, Karyoto was appointed Deputy for Analysis of International Network Breakers at the National Narcotics Agency (BNN).
After two years of service, he returned to the Bhayangkara corps and was transferred to become an Associate Policy Analyst for the Criminal Investigation Unit of the National Police.
In 2019, Karyoto was appointed Deputy Chief of North Sulawesi Regional Police. A year later, he was transferred to be the Deputy Chief of the Special Region of Yogyakarta.
(mnf/tfq/tsa)
(Gambas:Video CNN)