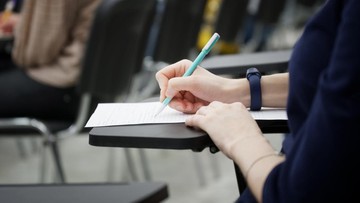 Jakarta, CNN Indonesia —
The government officially opens registration for the 2023 Service School. Check out the complete information, link, schedule and number of registration forms for the 2023 Service School.
Minister for Administrative Reform and Bureaucratic Reform (PANRB) Abdullah Azwar Anas said that this selection was transparent and objective in accordance with the applicant's ability to take the test.
"We emphasize that there will be no brokers, or other forms of fraud. Because the system we have built is very transparent, even the values ​​can be seen in real-time. So don't believe anyone who promises to enter official schools," said Anas as quoted from the website of the Ministry of Administrative Reform, Monday (27/3).
2023 Service School Registration Link
Applicants can register on the official link that has been provided. The link used for 2023 Service School registration is sscasn.bkn.go.id.
2023 Official School Registration Schedule
The following is a complete schedule related to 2023 Service School registration, information quoted from the official school selection system Dikdin website page:
Announcement
Announcement of registration begins on March 27, 2023.
Registration
Registration for Official Schools starts April 1 2023 (14.23 WIB)-30 April 2023 (23.59 WIB).
SKD test
Implementation of the Basic Competency Selection Examination (SKD) in June 2023 (tentative).
Advanced Selection
This stage is regulated by each Service School.
The SKD exam is planned to be held from May to June 2023. Later the SKD will be carried out for 100 minutes including a personal characteristics test (TKP), general intelligence test (TIU), and a national insight test (TWK).
The SKD of this Official School will use a Computer Assisted Test (CAT) to prevent cheating.
Number of 2023 Service School Formations
Anas continued that his party had prepared the formations needed in the Selection of Service Schools.
"For the time being, we have mapped out that there are 4,138 official school needs in seven agencies. There are still official schools that we are currently studying with the relevant ministries," said Anas.
The following is the number of 2023 Service School formations:
Ministry of Law and Human Rights (Poltekip and Poltekim) a total of 525 needs BPS (STIS Polytechnic) 500 needs BSSN (Siber and Sandi Negara Polytechnic) 125 needs BIN (STIN) 400 needs
Ministry of Finance 1,100 needs BMKG (High School of Meteorology, Climatology and Geophysics) 80 needs Ministry of Transportation (22 Schools of Transportation) 1,408 needs
This is the link information, complete schedule, and the number of formations needed for the 2023 Service School entrance selection.
(auz/juh)