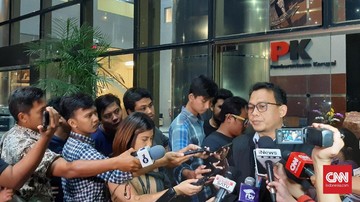 Jakarta, CNN Indonesia —
The Corruption Eradication Commission (KPK) has yet to receive a report from the Indonesia Audit Watch (IAW) alluding to the involvement of an artist with the initials R in the alleged corruption case of former Director General of Taxes, Rafael Alun Trisambodo.
"So far, after we have checked the mail department, there has been no receipt of the said report," said Head of KPK Reporting Section, Ali Fikri, in a written statement, Friday (31/3).
He said the report had not yet been submitted to the public complaints section (Dumas) or the KPK Public Relations Information and Documentation Management Officer (PPID).
"Maybe it can be confirmed again to the reporter who reported it to the KPK via what," said Ali.
Even so, he added that the anti-corruption agency is always open in receiving any reports that are complained by the public. This is because it will help the KPK in uncovering corruption cases.
"Because in principle we certainly appreciate the people who play a role in eradicating corruption by reporting any suspected corruption to the KPK complaint, and the KPK will definitely follow up afterwards," said Ali.
The KPK has upgraded the status of the Rafael Alun Trisambodo case from investigation to investigation.
The KPK has officially named the former Head of the General Section of the Directorate General of Taxes of the Ministry of Finance of the South Jakarta II Regional Office as a suspect in the alleged corruption case.
The determination of the suspect is contained in the Order for the Commencement of Investigation (Sprindik) dated March 27, 2023. Rafael is suspected of violating Article 12 B of the Law on the Eradication of Corruption Crimes (UU Tipikor).
(ryn/pmg)
(Gambas:Video CNN)