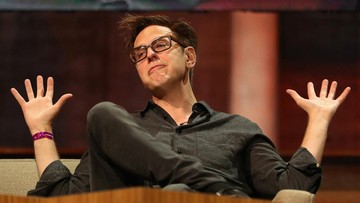 Jakarta, CNN Indonesia —
James Gunn has denied that he has found an actor to play the superhero in Superman: Legacy. In fact, Gunn admits he hasn't spoken to any actor for the role yet.
"Not true," argued James Gunn, as quoted by Variety, Thursday (30/3). "I haven't spoken to a single actor about the role. I just made a personal list, preparing material for auditions,"
James Gunn provides a denial of the rumors created by Beyond the Trailer host Grace Randolph.
Randolph said via his personal Twitter account that James Gunn was getting closer to getting an actor to play Superman in his latest film.
Additionally, he also said the actor was currently in final discussions and the superhero role was already locked.
Randolph even claimed, from sources he got, that actor Logan Lerman was James Gunn's top choice. Gunn also denied the claim.
"For your information, I don't know who he (Logan Lerman) is," said James Gunn. "Dude, it's not about the actors. I don't know much about actor names."
"Now you guys tell me who he is, I recognize him and I think he's got talent," Gunn said.
"But, I've never met him and he was never part of the conversation about the role of Superman," he continued.
Previously, James Gunn confirmed that he would directly work on the first film from DC Studios under his leadership, namely Superman: Legacy.
(Gambas:Video CNN)
Gunn said that he had long been offered to work on Superman. But then years ago, he turned down the offer.
It wasn't until then, Gunn said, less than a year ago that he came across a number of stories surrounding the life of Superman's legacy and felt they could be a pathway for him.
Superman: Legacy is slated to hit theaters on July 11, 2025.
(pra)