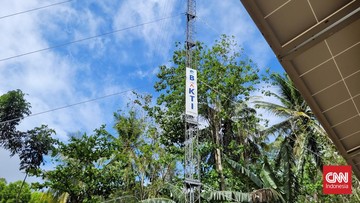 Jakarta, CNN Indonesia —
The Association of Indonesian Internet Service Providers (APJII) revealed that not many internet service providers (ISPs) collaborate with the Telecommunications and Information Accessibility Agency (BAKTI) products.
"About 800 members of APJII don't use or even know whether BAKTI can be invited to collaborate. We also need to discuss this with BAKTI about how BAKTI information is delivered," said Zulfadly Syam, Secretary General of APJII, during the event. Internet Service Provider Industry & Market Profile Survey for 2023 in Jakarta, Thursday (30/3) evening.
Apart from not knowing BAKTI's collaboration and products, several others are said to not use BAKTI's products for various reasons, ranging from the price that is considered expensive to the feeling that it will be a hassle.
"The reason is because some consider it expensive, some find it complicated," said Zulfadly.
According to a survey conducted by APJII on its members, only 12.5 percent of the total respondents used BAKTI products. APJII itself now has 909 members, but only 239 Internet Service Providers (ISPs) were involved in this survey.
Then, of the total respondents, only 6.3 percent used the Palapa Ring product developed by BAKTI.
Regarding the reasons for not using BAKTI's products, 81.4 percent said they did not know the process and detailed information about BAKTI; 12.9 percent due to high costs 2.9 percent due to the difficult submission process.
Meanwhile, another 2.9 percent said they did not meet the qualifications to become partners.
Furthermore, Zulfadly said he would communicate this problem with BAKTI and the Ministry of Communication and Information (Kominfo).
"So we really have to communicate this to BAKTI and Kominfo that they are touting BAKTI as an accelerating agency for digital transformation, but the products used by ISPs, who are indeed at the forefront of acceleration, are lacking," he said.
"We have already started, which means we have started a lot of discussions now so that the government's plans for acceleration can involve ISPs," he added.
Kominfo himself admitted that he would still check further regarding the APJII survey when asked for confirmation by CNNIndonesia.com.
(Gambas:Video CNN)
(lom/arh)