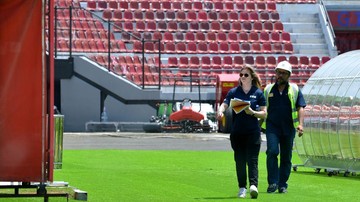 Jakarta, CNN Indonesia —
Football fans in Bali are very disappointed with the revocation of host status for the 2023 U-20 World Cup from the hands of Indonesia.
Ahmad Clean as the Advisor of the Bali Supporters Brigade (Brigaz) said that personally he was very upset and disappointed with the cancellation of the U-20 World Cup event in Indonesia, especially in Bali.
"Personally annoyed and disappointed, that's for sure. As said in the last press conference of the President (Jokowi), if you say don't drag on disappointment, that's true too. But what can I say, we as Indonesian supporters, however, feelings of annoyance and disappointment exist," said Ahmad, when contacted, Friday (31/3).
Ahmad was saddened by the cancellation of the U-20 Cup draw when the event was only days away and questioned why the Israeli National Team's rejection was not far-away. Meanwhile, if the reason for safety at the World Cup is the standard, why was there no rejection long beforehand.
"Why does it have to be the moment when we have prepared. We in Bali have prepared everything, moreover our club Bali United has arrived as a traveler to provide greater opportunities to improve the stadium that is used. Bali United must be sacrificed as a traveler in this second round to make the World Cup a success, " he added.
His party also could not bear to see on television the U-20 National Team players crying because they failed to appear in the U-20 World Cup.
"Our national team players are crying, they are 99 percent ready. Only one percent is left on the field, why should they be tackled," he said.
After the host status of the U-20 World Cup was revoked, Ahmad hoped that FIFA would not sanction Indonesia. Because, if there were to be sanctions against Indonesian football, of course there would be many victims.
"My hope is that the government can (lobbyize FIFA) and just cancel this, not add further sanctions. It's a pity for our young people who work in football, our young people have more than three years to practice leaving their families, leaving school, leaving everything to be able to fight in the World Cup, suddenly they cancel (play) how painful it is," he said.
Meanwhile, it was confirmed differently, Baligun Yokohama, who is a Bali United supporter and also a football lover in Bali, said that during his time as a football supporter in Bali, this was the first time he was devastated and very disappointed.
"All my life I support football, this is the hardest blow while being a supporter," he said.
He considered that Indonesia's failure to host the U-20 World Cup was due to the political interests of officials in this country and this tarnished Indonesia's good name.
"We defend other nations but what we defend is cool. Those of us who are burning our beards want to make a good name for defending other nations even though we are hurting our own nation. Especially the nation's good name, national pride, we are ridiculed by other countries."
"Especially in the World Cup, we are really disappointed, we were destroyed by two elements, we don't know if there are other people above them, we don't know. The real thing is two people (Governor Ganjar and Koster). So the nation's children are the victims, Baligun said.
(Gambas:Video CNN)
(kdf/ptr)
(Gambas:Video CNN)