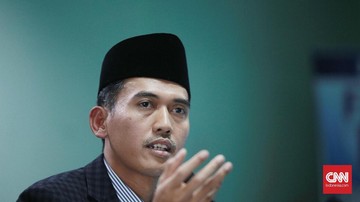 Jakarta, CNN Indonesia —
Chairman of the Indonesian Ulema Council (MUI) for Fatwa Asrorun Niam Sholeh stated that wearing a mask when performing prayers under normal conditions (not being sick/stricken by an epidemic) is makruh.
"If you are praying, take off your mask. Because wearing a mask during prayer, under normal conditions, it is forbidden," said Asrorun, Friday (31/3) as quoted by Antara.
However, he said wearing a mask during prayers is permissible under certain conditions, including those related to health.
"Unless he has syariyah intentions, such as being sick or worried about contracting a disease," said Asrorun.
Previously, MUI had issued a fatwa contained in a Decree (SK) concerning Guidelines for Organizing Ramadan and Eid Al-Fitr 1443 H issued by the MUI Central Leadership Council.
In the Decree number Kep-38/DP-MUI/III/2022 issued on Wednesday, March 30, 2022, it states that wearing a mask during congregational prayers to protect oneself from contracting a disease, such as Covid-19, is permissible and not makruh.
However, said Asrorun, currently the government has revoked the status of Imposing Restrictions on Community Activities (PPKM). This means that Indonesia's condition has returned to normal and is back to carrying out activities as it should.
"Right now, the government has revoked the PPKM status, so in general the condition of society has returned to normal. Thus, the implementation of worship, including the implementation of prayers, has also returned to normal," he said.
The Professor of Jurisprudence at UIN Syarif Hidayatullah Jakarta explained that the takmir of mosques needs to provide convenience to congregations in carrying out their prayers and celebrations of Ramadan.
He also reminded that if there are several mosques or prayer rooms that are still rolling carpets, it is necessary to roll out carpets again. In addition, mosque takmirs are advised not to stretch the prayer row anymore.
(Antara/kid)
(Gambas:Video CNN)