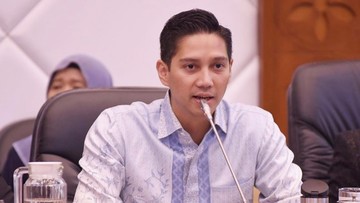 Jakarta, CNN Indonesia —
The Gerindra Party said it would continue to support Indonesian football and separate sports from politics.
Deputy Chairperson of Gerindra Budisatrio Djiwandono made this statement after FIFA canceled Indonesia's bid to host the U-20 World Cup.
"The Gerindra Party is committed to continuing to support and facilitate the progress of football and other sports, and to always separate sporting interests from political interests," said Budi in a written statement, Thursday (30/3).
According to him, sport contains sportsmanship and solidarity as an instrument of unifying the nation.
He then emphasized that Gerindra's stance had not changed, namely supporting the independence of a Palestinian state. But he said sport needed to be kept aside from politics.
"We also see that the essence of sport is a manifestation of a knight's spirit, and should not be mixed up with any political interests," said Budi.
He regretted when PSSI and FIFA failed to find common ground which led to the cancellation of Indonesia as host of the U-20 World Cup.
Budi said the 2023 U-20 World Cup should be a golden opportunity for the Indonesian youth football national team on the international stage.
Even so, he still respects the decision taken by FIFA regarding the host status of the U-20 World Cup.
"In addition, holding the U-20 World Cup also has the potential to create economic value and new job opportunities in Indonesia," said Budi.
"However, the Gerindra Party continues to respect the decisions made by FIFA," he continued.
(bmw)
(Gambas:Video CNN)