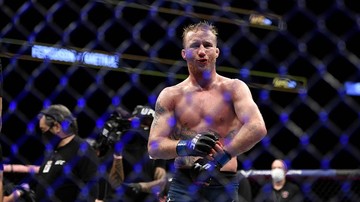 Jakarta, CNN Indonesia —
Justin Gaethje believes he can knockout Islam Makhachev if he meets in the UFC octagon.
Gaethje is one of the UFC stars at lightweight. In Gaethje's view, he has a chance of winning against Makhachev.
But in order to beat Makhachev, Gaethje realized that he could not make mistakes. The reason is that a small mistake can have fatal consequences in the face of Islam Makhachev.
"I think Islam Makhachev is a tough opponent for anyone. I have to be able to fight perfectly."
"I think I can knock him out. I think I can knockout anyone with the power I have," Gaethje said in an interview with TMZ Sports, quoted from BJPENN.
Gaethje once faced Khabib Nurmagomedov in a duel for the UFC title in 2020. At that time, Gaethje lost via submission in the second round.
That match was also Khabib's last fight on the UFC stage. After Khabib retired, Makhachev, who had a fighting style similar to Khabib's, skyrocketed and eventually became the UFC lightweight champion.
In Gaethje's view, Makhachev and Khabib do have a similar type. But Khabib, who is undefeated in his career, is considered by Gaethje to have a scarier aura than Makhachev.
"I think it feels very similar. I think the biggest difference is that Islam Makhachev has already lost. He lost the fight."
"Indeed, he still has the aura of invincibility, but it is not based on 100 percent facts like Khabib's. I think that is the biggest difference," said Gaethje.
In his career, Islam Makhachev has swallowed one defeat. That defeat occurred in a duel against Adriano Martins in 2015 when Islam Makhachev lost by TKO. But after that defeat, Islam Makhachev was able to achieve 12 consecutive wins to date.
Gaethje is currently third on the list of UFC lightweight contenders. He has failed twice in the title fight because he also lost against Charles Oliveira last year.
(Gambas:Video CNN)
(ptr/nva)
(Gambas:Video CNN)