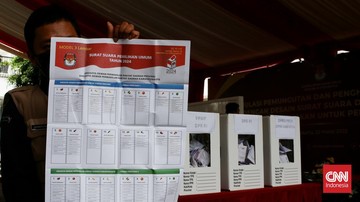 Jakarta, CNN Indonesia —
The International NGO Forum on Indonesian Development (INFID) considers that there are a number of reasons why women have not been heavily involved in the political arena in Indonesia.
INFID's Human Rights and Democracy program officer Rizka Antika said that Indonesia is currently in the bottom position regarding women's involvement in politics.
Referring to the 2021 World Bank data, Indonesia is ranked 107 out of 183 countries in the world regarding the involvement of women in politics.
This is also illustrated by the number of women in parliament who have not been able to reach the minimum figure of 30 percent representation.
"Women's representation in parliament is only 20.87 percent," Rizka said at an event held in Jakarta, Thursday (30/3).
Rizka said the first factor that women have not been involved in politics much is the gender gap.
"The first factor is the gender gap ambition factor," said Rizka when met after the INFID discussion event in Jakarta, Thursday (30/3).
According to her, there is a burden for women in Indonesian society which is an obstacle to achieving her dreams in the political arena. One of them is the household burden which is considered as the main responsibility of women.
The second factor is voter bias. There are still many voters who think that male politicians are superior to women.
"This factor shows that voters still discriminate against women and think that male candidates are superior," he said.
Rizka also mentioned that similar things had happened in many countries. He referred to data published by the 2017-2020 World Value Survey. Many countries where more than 50 percent of the population considers men to be superior in the political sector.
The third factor is political parties. As a key instrument, Rizka believes that political parties still discriminate against women politicians.
"Unfortunately, there are still many political parties that only favor male candidates due to the notion that men are more 'easier to win' than women," said Rizka.
The last factor is women themselves who are still reluctant to take on the role of leader if their group is still dominated by men.
He regretted that this phenomenon did not only occur in Indonesia, but also in the international arena.
"Currently in the world there are only 21 percent of women who become prime ministers and 26 percent who become representatives in parliament. These data are the findings of the world population review in 2023," he said.
(mnf/bmw)
(Gambas:Video CNN)